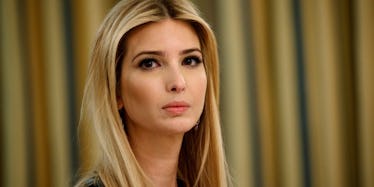 Ivanka Trump's DC Neighbors Say She's 'Completely Ruined The Neighborhood'
REUTERS
If you live in the upscale neighborhood of Kalorama in Washington, DC, there's a good chance you've been complaining about your new high-profile neighbors.
No, I'm not just talking about the Obamas or the Tillersons, I'm also talking about Ivanka Trump and her husband Jared Kushner.
The couple have been living in the posh DC neighborhood for two months now, and neighbors have had enough, it seems.
Trump and Kushner, along with their three children, moved to a lavish home worth a reported $5.5 million.
While Ivanka Trump's aide previously stated her neighbors graciously welcomed her family in their new 'hood, it turns out that might not actually be the case (and I'm not surprised).
A woman named Marietta Robinson who lives across the street from their new home in DC spoke to a reporter for the Associated Press, saying,
It has been a three-ring circus from the day that they've moved in. They've completely ruined the neighborhood.
Damn, that does NOT sound good! But what could Ivanka Trump and her family actually be doing to leave such a bad taste in their neighbors' mouths? Are they blasting Lee Greenwood at all hours of the night and day?
Surprisingly, no. It turns outs Kalorama residents are sick and tired of the chaos the Secret Service has caused ever since Trump and Kushner moved into the area in January.
One of the main complaints seems to be a lack of parking on their already congested street. Residents aren't able to find parking because the Secret Service and its fleet of vehicles are constantly blocking street parking.
Robinson spoke to the Washington Post, saying,
Sometimes there are 10 cars out there... They've completely taken over the whole street — as if they have the authority!
On top of that, Ivanka Trump and her husband haven't been following the neighborhood's trash schedule, according to the same report.
Instead of putting trash out on days when garbage is scheduled to be collected, they often leave bags of it sitting on the curb on off days.
This is the adult child of the president.
Still, no one can quite figure out why Ivanka Trump is causing the most chaos in Kalorama. After all, former president Barack Obama and his family currently live there.
Secretary of State Rex Tillerson also lives in the neighborhood and hasn't been able to garner as many complaints as Ivanka and Jared have.
Neighborhood commissioner Ellen Goldstein spoke to AP, saying,
Maybe some of the upset has to do with politics a little. I couldn't say for sure, but I know that people don't seem to be upset about Tillerson's situation. It's much less intrusive.
Or "maybe" people just want to come home and park their cars with ease after a long day instead of having to sit around for hours waiting for a spot to open up!
Not to mention, when you're finally freed from your car, you might be subject to tripping over piles of trash. I'd be throwing a temper tantrum, too!
What will probably make neighbors even angrier is the statement Trump's aide gave to the AP when asked to comment on the complaints. The aide relayed Ivanka's message on the matter, stating,
We love the neighborhood and our family has received an incredibly gracious welcome from our neighbors.
Ivanka, according to your neighbors, that is entirely false. Plus, you pretty much confirmed it when you had to go find "new friends" at the zoo.
Godspeed, Kalorama!
Citations: Ivanka Trump and Jared Kushner's Washington, D.C., Neighbors Are Already Complaining About Them (Us Magazine)