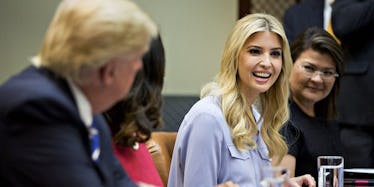 Ivanka Trump Goes Against Dad On Accepting Syrian Refugees In New Interview
Getty Images
President Donald Trump has consistently demonized refugees, especially those from Syria.
He's referred to Syrian refugees as "a great Trojan horse," painting them as potential terrorists in spite of the fact no refugees have carried out major fatal terrorist attacks on US soil since the Refugee Act of 1980.
President Trump has repeatedly attempted to temporarily ban Syrian refugees from coming into the US since taking office.
The president's daughter, Ivanka Trump, does not seem to be on the same page as her father.
After facing a tough crowd at a summit on women entrepreneurship in Germany, the first daughter told NBC's "Today" the situation with Syrian refugees is "a global humanitarian crisis that's happening, and we have to come together, and we have to solve it."
When asked whether the US should be accepting Syrian refugees, Ivanka Trump said, "That has to be part of the discussion, but that's not going to be enough in itself."
This appears to be yet another example of Ivanka championing a progressive cause without fully acknowledging how her stance contradicts her father's.
Ivanka was called out at the conference in Germany for this very reason.
She was there to promote the notion of equal opportunity for women, but was booed when she attempted to defend her father in this regard due to his past words and actions.
The first daughter has a lot of influence in the White House, and has consistently been criticized for not being more vocal about her father's transgressions.
Relatedly, Ivanka's brother, Eric, recently claimed his sister played a major role in pushing her father toward taking military action against the Assad regime in Syria following a chemical attack that killed civilians.
Ivanka was decried as a hypocrite for this given she seemingly hasn't pressured her father to shift his stance on refugees.
In spite of the first daughter's comments in the NBC interview, it's difficult to believe President Trump's stance will shift significantly in this regard.
Citations: April 26th, 2017 Ivanka Trump: 'A global humanitarian crisis is happening' (Today)