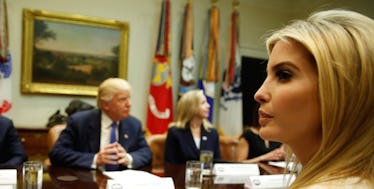 Ivanka Trump Goes Against Dad Again To Protect Environment In Surprising Move
REUTERS
Ivanka Trump, along with husband Jared Kushner, pushed to get rid of language in an upcoming executive order that would go against some climate change policies, according to the The Wall Street Journal.
This is not the first time Ivanka has allegedly moved forward to make Donald Trump's actions a tiny bit less anti-progressive than they otherwise would have been.
Earlier this month, it was reported Ivanka pushed her father to protect some LGBTQ+ rights from a rumored anti-LGBTQ+ executive order.
Although that order has not materialized, Trump did reel back protections for transgender students on Wednesday, February 22, so Ivanka's influence is unclear.
Ivanka does not technically have a role in the administration, but she has been a notable presence in the White House and at official presidential events.
Ivanka and Jared reportedly worked to keep language against a global climate deal out of an upcoming executive order.
Trump previously signed a bill to undo Barack Obama's rules protecting waterways from coal mining waste.
The president has called climate change a "hoax" and has repeatedly indicated that he prioritizes businesses over the environment.
This has many scientists and environment fans anxious.
It was reported in December 2016 that Ivanka wanted to make climate change a signature issue for herself.
She and her father met with Al "Inconvenient Truth" Gore at Trump Tower in December. Gore said,
It's no secret that Ivanka Trump is very committed to having a climate policy that makes sense for our country and for our world, and that was certainly evident in the conversation that I had with her. I appreciate the fact that she is very concerned about this.
Ivanka has publicly supported Democrats in the past and gave a relatively progressive speech at the Republican National Convention last summer.
Although many liberals criticize her for continuing to endorse her father's more discriminatory policies, rumored moves like this show that she may still have some non-GOP ideals hidden in that blonde hair.
Citations: Kushner, Ivanka Trump Pushed to Remove Words Critical of Climate Deal From Executive Order (Wall Street Journal), Ivanka Trump, climate czar? (Politico), Why Did Ivanka Summon Al Gore to Trump Tower? (The Atlantic)