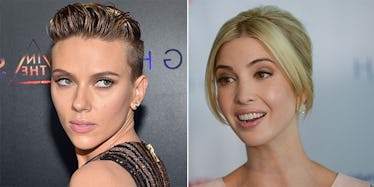 Scarlett Johansson Slams Ivanka Trump For 'Cowardly' Response To Dad's Politics
REX/Shutterstock
Scarlett Johansson railed against Ivanka Trump at the Women in the World Summit in New York City on Thursday afternoon.
Johansson was addressing the digital short she did with "Saturday Night Live," in which she depicted the first daughter as being "complicit" in Donald Trump's administration.
In the SNL clip from March, Johansson portrays Ivanka in an ad for a perfume called "Complicit," saying it's "the fragrance for the woman who could stop all of this, but won't."
Ivanka responded to that short -- and other criticism that she's being complicit in her father's actions that discriminate against minorities and women -- in an interview with CBS that aired on Wednesday morning.
Trump said,
I would say not to conflate lack of public denouncement with silence.
She explained some people use their voice in protest, but others use their voice "quietly, and directly, and candidly." She said,
So where I disagree with my father, he knows it, and I express myself with total candor.
At the Women in the World Summit on Thursday, Johansson called that response "baffling."
The actress said Trump saying her voice was used behind closed doors was "particularly disappointing."
"I thought to myself, 'Well that's empowering,'" Johansson said with an eye-roll. "How old-fashioned? This idea that behind a great man is a great woman. What about being in front of that person?"
Johansson went on to say she saw Trump's language in that interview as linked to that "old-fashioned concept" that powerful women can appear "bitchy." She said,
Powerful woman often get concerned with this idea that they're going to be seen in an unforgiving light, and, you know? Screw that. It's so old-fashioned, and it's so uninspired, and I think actually really cowardly.
The "Ghost in the Shell" actress acknowledged Ivanka must be in a "complicated" situation with her father now taking this position of power he clearly never wanted, but it's still hard for Johansson, who was raised in an engaged liberal household, to understand.
Johansson said she has met Ivanka Trump several times -- they both grew up in New York -- and has found her to be well-spoken, intelligent and engaging. That's why it's so hard for her to get because Trump has "an opportunity to really make a big impact, just by being vocal."
"It baffles me. The whole situation baffles me," Johansson concluded.
Johansson has been more publicly politically involved since the beginning of 2017, most prominently with her speech at the Women's March in DC.
But that doesn't mean she's quite ready to run for office herself. She said,
I've always been interested in local politics, I think that's where you make the most effective changes in your community. I would never rule anything out, but I have a very full life right now, and I think that with a very young daughter, and I have lot that I want to do still with my career. I can't imagine that would be a possibility for a long time.
Well, 2020 sure feels like a long time from now...
Citations: Ivanka Trump interview: Don't "conflate lack of public denouncement with silence" (CBS News)