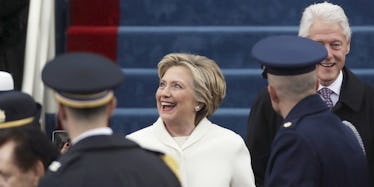 Clinton's Moving Reason For Going To Trump's Inauguration Shows Power Of Grace
REUTERS
Hillary Clinton went to the inauguration of Donald Trump on Friday in Washington, D.C.
She went despite a ridiculously tense and contentious presidential election between the two of them.
Clinton appeared at the inauguration on Capitol Hill wearing an all-white pantsuit.
She has worn all white several times in the past year. This is typically seen as a nod to the suffragette movement to secure votes for women. Suffragists regularly wore all-white to show their support for the cause.
Clinton had decided to go to the inauguration earlier this month  because she is a former first lady. Many people questioned why she was choosing to do this and criticized her for seemingly endorsing the hateful rhetoric of Trump.
So Clinton took a bit of time on Friday to explain why she chose to attend the inauguration of a man whose hate she tried to trump.
She sent out a tweet on Friday morning to share her thoughts.
In her tweet, Clinton said she was at the inauguration to "honor our democracy & its enduring values."
She went on to say,
I will never stop believing in our country & its future.
This is a message Clinton and the Obamas have been spreading since Trump unexpectedly won the election in November.
They have said again and again they are in support of a peaceful transition of power.
Obama reiterated this in his final public addresses as president.
He shared a message similar to Hillary's on the @POTUS Twitter account just before the account was wiped and given over to the Trump administration.
In his final tweets as president, Obama said he will "be right there with you as a citizen, inspired by your voices of truth and justice, good humor and love."
Just as a reminder, Clinton won the popular vote by almost 3 million votes.
Citations: Hillary Clinton Posts a Powerful Explanation of Why She's Attending Trump's Inauguration (Cosmopolitan), It's official: Clinton swamps Trump in popular vote (CNN)