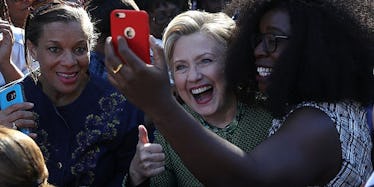 Hillary Clinton Sent A Special Delivery To Fans Who Camped Out For Her New Book
Justin Sullivan/Getty Images
People who lined up overnight to by a new copy of What Happened got a surprise delivery from the author herself. Hillary Clinton sent pizza to fans who camped out at the Barnes & Noble store in Manhattan's Union Square, where the former presidential nominee begins her book tour on Tuesday, Sept. 12. Some recipients of the special gift posted photos on Twitter showing the boxes of pies that were handed out to them.
The former secretary of state, in turn, replied to one of the users who posted a photo, acknowledging she sent the food with a simple message:
Enjoy! See you all tomorrow!
"Tomorrow" is a reference to her book signing at that same Barnes & Noble, which will mark the official release date of What Happened. The book details -- well -- what happened during the tumultuous 2016 presidential race, during which the heavily favored Clinton won the popular vote but narrowly lost the White House via the all important Electoral College count.
Since, the title of the book was announced, several excerpts have been revealed and provide an unfiltered view of what Clinton thought during key moments of the campaign.
One excerpt, for instance, revealed her feelings during a noticeably awkward moment during the second presidential debate, when now President Donald Trump appeared to follow closely behind her on stage.
In What Happened, Clinton wrote about that moment, saying,
'This is not okay,' I thought. It was the second presidential debate and Donald Trump was looming behind me. Two days before, the world heard him brag about groping women. Now we were on a small stage and no matter where I walked he followed me closely, staring at me, making faces. It was incredibly uncomfortable. He was literally breathing down my neck. My skin crawled.
Another excerpt revealed before the book's release focused on former Democratic primary candidate Bernie Sanders and the "lasting damage" Clinton says he caused to her campaign. That particular excerpt read,
When I finally challenged Bernie during a debate to name a single time I changed a position or a vote because of a financial contribution, he couldn't come up with anything. Nonetheless, his attacks caused lasting damage, making it harder to unify progressives in the general election and paving the way for Trump's 'Crooked Hillary' campaign.
Sanders would eventually campaign with Clinton, along with other Democratic leaders who sought to avoid a Republican presidency.
Clinton's gesture to the supporters who showed up for her book signing isn't exactly the first time she's had an intimate moment with fans at a book store (and let's face it, regardless of whether she was there or not, things don't get much more intimate than pizza).
Shortly after the 2016 election, when public appearances for her were much more rare, Clinton took a picture with an employee at a book store in Rhode Island, who then penned an emotional Facebook post about the former nominee.
The employee, Jessica Wick, wrote,
I'd have liked to tell her I was a poet in ardent support of what she stood and stands for. I'd have liked to tell her how, at that very bookstore, behind the very same counter she approached to ask about a book, I listened to her concession speech with two of my co-workers and we cried; how in that same spot customers and employees have talked about her with regret and hope.
From the looks of pictures taken on Monday night, supporters who lined up at Barnes & Noble had a less somber experience. Here are some of the photos fans posted:
Clinton's book tour will continue on Sept. 18 in Washington D.C. and conclude on Dec. 13 in Vancouver.