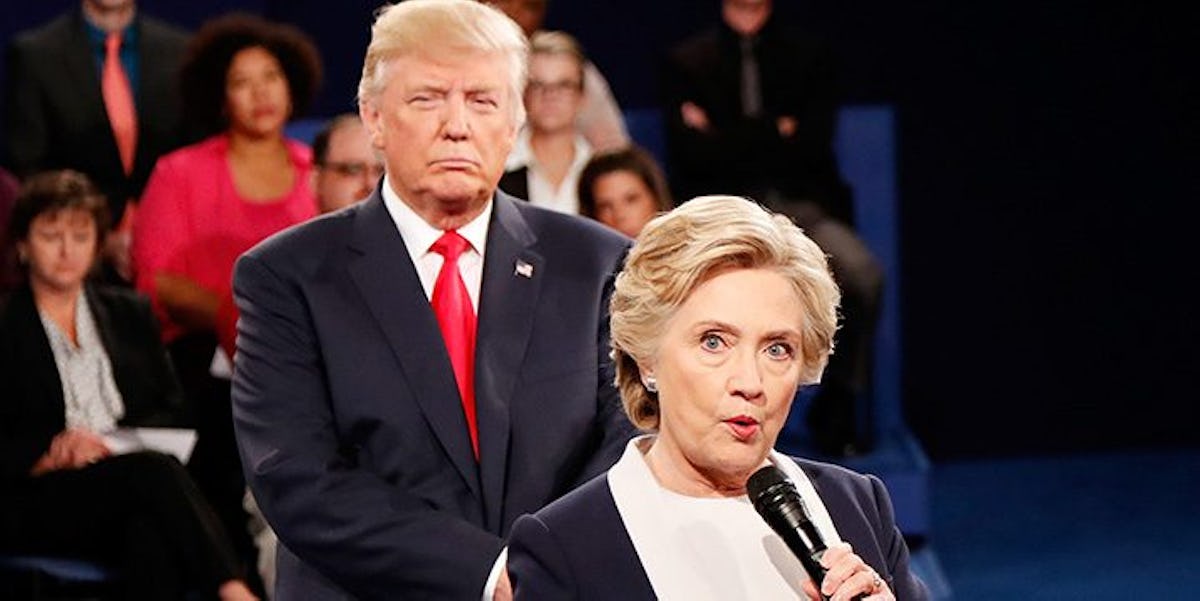 Hillary Clinton Recalls Moment Trump Stood Awkwardly Behind Her: "My Skin Crawled"
Pool/Getty Images
If you ever wondered how Hillary Clinton felt while being closely followed by President Donald Trump on stage, you don't have to wonder anymore. The answer comes in a recently revealed excerpt from Hillary Clinton's new book, in which she writes about the "incredibly uncomfortable" experience. Within the excerpt, the former secretary of state recalled,
'This is not okay,' I thought. It was the second presidential debate and Donald Trump was looming behind me. Two days before, the world heard him brag about groping women. Now we were on a small stage and no matter where I walked he followed me closely, staring at me, making faces. It was incredibly uncomfortable. He was literally breathing down my neck. My skin crawled.
The exact moment to which Clinton is referring is no mystery. During that second presidential debate in October 2016, as she began answering an audience member's question about health care, Trump hovered behind her for the duration of her response.
As Clinton mentions in the excerpt, the debate came days after the Washington Post published a damaging tape of Trump talking about pursuing and sexually harassing women.
Later that month, Clinton appeared on The Ellen DeGeneres Show, telling the audience that she could sense how much anger Trump had at the time and that the moment was "really weird."
Naturally, the moment was soon parodied by Saturday Night Live.
This new excerpt of her book was featured during the Wednesday, Aug. 23, airing of MSNBC's Morning Joe. Last month, Clinton revealed the title of her latest work: What Happened.
Within the passages revealed on Morning Joe, there was also a part during which Clinton discusses letting down her supporters. She said,
Writing this wasn't easy. Every day that I was a candidate for president, I knew that millions of people were counting on me, and I couldn't bear the idea of letting them down. But I did. I couldn't get the job done, and I'll have to live with that for the rest of my life.
What Happened is set to be released on Sept. 12.