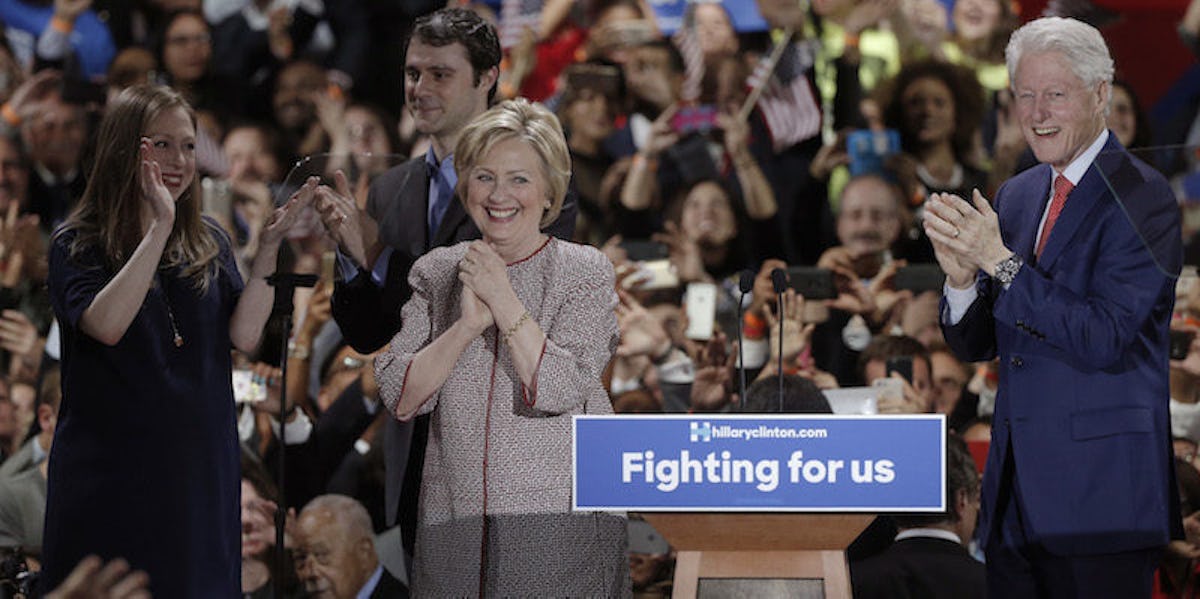 Hillary Clinton Won New York Because She Gets This One Important Thing
REUTERS / Mike Segar
Hillary Clinton's energetic crowd of supporters at her Midtown Manhattan primary party had plenty to celebrate on Tuesday night, and celebrate they did -- while decked out in Hillary gear, of course.
Clinton's win in New York was a major personal victory for her, as she won the state that she represented as senator for eight years. And as she took the podium to deliver the night's big speech, Clinton focused on what makes New York New York -- its diversity.
As Clinton says, we are a country made of differences... but those differences are what makes us complete.
Clinton addressed the Republican candidates, saying that they are trying to divide people. But, she said, "we have a very different vision." Rather than using our nation's diversity to divide us, Clinton said, we need to celebrate it and come together.
She said that, as president, she would work to improve people's lives by tackling the various problems people face, from low wages to paid family leave to systemic racism.
Although Clinton apparently criticized Democratic opponent Bernie Sanders by saying that it's not enough to diagnose problems -- you have to have plans to solve them -- she attempted to endear herself to his supporters.
Bridging the country's differences further, Clinton said that Sanders supporters actually have more in common than they might think. This was a strong look forward to the general election.
Overall, Clinton's speech was about togetherness. She spoke about the need for us to come together, not break apart, through whatever differences we may have -- cultural or ideological.
In a city as diverse as New York, with a celebrated history of immigration and combined cultures, it was a poignant theme for Clinton to make.