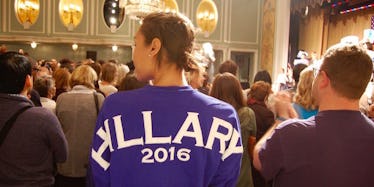 These 12 New Yorkers Celebrated Hillary Clinton's Win With The Sickest Swag
Hillary Clinton was campaigning hard out in New York City over the past few weeks.
The New York primary happened on Tuesday, and it seems like her hard work paid off. Clinton, it's confirmed, has won the New York primary vote over Bernie Sanders.
This is a big personal victory for Clinton, who served as senator of New York state for eight years. The state is her adopted home. She voted in New York on Tuesday morning.
Throughout the campaign in New York, Clinton and her supporters noted that she had worked for New Yorkers as a senator, and now she needed New Yorkers to work for her to win the state.
New Yorkers did show up to support her -- and in style, of course. Hillary shirts, stickers and baseball caps abounded at campaign stops. Here are the best pieces of Hillary swag we found at Clinton events in New York City.
A t-shirt paired with buttons lets everyone know what you're about.
And when you've got a friend, you can make double the statement with Hillary shirts. Her 1995 Beijing speech on women's rights is featured here.
Hillary's campaign motto, "I'm With Her," takes on new life in shirt form.
This tee goes back to history, looking at other women who have run for president.
Your game face makes an outfit truly shine.
This crew makes supporting Clinton a family affair with swanky Hillary shirts.
Show off a sweet hairdo with a jersey-style Hillary shirt.
Sometimes the best swag is your career -- like for these Executive Women for Hillary.
A backwards baseball cap can serve you well.
Don't have official gear? No problem! Just grab a handful of stickers and bring the enthusiasm.
Swag it up.
And go all out.