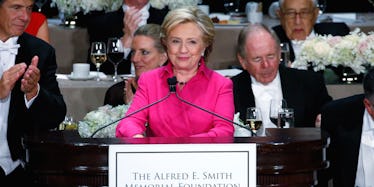 13 Jokes Hillary Clinton Told At The Al Smith Dinner That Were So, So Savage
REUTERS
Hillary Clinton and Donald Trump managed to stay in the same room together without coming to blows.
They both spoke at the annual Al Smith Dinner in New York City on Thursday night.
The super fancy white-tie dinner is an election tradition where the candidates get to poke some fun at themselves and their competitors.
Trump, predictably, took it a little too far with a lack of self-deprecation and lots of vitriol towards Hillary. He ended up getting booed in the hall.
Clinton, also predictably, more closely followed tradition and kept the humor lighter -- although it was definitely more antagonistic than at previous Al Smith Dinners.
The Democratic nominee isn't exactly known for her humor, a fact that she spoke about during the speech. She said,
I understand I am not known for my sense of humor. That's why it did take a village to write these jokes.
("It Takes A Village" is the title of a book Clinton wrote in the '90s.)
But she did manage to get a ton of laughs with her speech.
Clinton joked that Trump certainly "has issues," contrary to criticism that he doesn't have policy plans.
She said he'd see the Statue of Liberty as "a four, maybe a five if she loses the torch and tablet and changes her hair."
Then, Clinton said,
You know, come to think of it, you know what would be a good number for a woman? Forty-five.
She's referring, of course, to the position of the 45th president.
Here are her other best jokes of the evening.
On being a party animal.
After discussing her lack of a sense of humor, Clinton said she often hears people say she's more boring than Trump.
I'm not boring at all. In fact, I'm the life of every party I attend...and I've been to three!
On Trump's call for drug tests before the third debate.
Last week, Trump accused Clinton of using drugs before the second debate because she was so "pumped up." He said there should be a drug test before the last debate to catch her using stimulants.
During the dinner, Clinton said,
I am so flattered that Donald thought I used some sort of performance enhancer.Now, actually, I did. It's called preparation.
On WikiLeaks.
WikiLeaks has been leaking a series of emails from members of the Clinton campaign. Clinton said,
I said no to some jokes that I thought were over the line. But I suppose you can judge for yourself on Wikileaks in the next few days.
Clinton listed the "honorable" politicians in the room. And then, she said, Giuliani was there, too. He's been a vocal Trump surrogate throughout this election season.
She said,
Now, many don't know this, but Rudy actually got his start as a prosecutor going after wealthy New Yorkers who avoided paying taxes. But, as the saying goes, 'If you can't beat them, go on Fox News and call them a genius.'
On making history.
Clinton joked about Trump calling out her health, comparing the health records both of their doctors have put out.
My heart rate is 72 beats per minute, his is the most beats ever, or the least beats ever, whichever sounds best.
She continued, saying,
I can say without fear of contradiction tonight, that I will be the healthiest and youngest woman ever to serve as president.
This wasn't the only reference Clinton made about making history as potentially being the first female president. She also said,
Whoever wins this election, the outcome will be historic. We'll either have the first female president or the first president who started a Twitter war with Cher.
On what brings us all together.
The dinner is supposed to be a moment of humorous unity in the middle of the presidential election. Clinton referred to that, saying,
So tonight, let's embrace the spirit of the evening. Let's come together. Remember what unites us...and just rip on Ted Cruz.
And on what we all want to hear.
Again, Clinton said she hears the criticism of herself, including that she only says what people want to hear.
Well, tonight, that is true. And here's exactly what you want to hear — this election will be over very, very soon.
Like Hillary said, the election will, thankfully, be over very, very soon -- on November 8.
Elite Daily and 50 other media organizations partnered with Rock The Vote to register 100,000 women to vote. You can register right here (and men can use it too) :
Citations: Time, Daily Beast, CNN