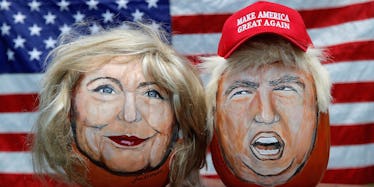 Hillary Clinton Just Absolutely Roasted Donald Trump And People Are Losing It
REUTERS
Hillary Clinton is having a good week.
She became the first woman to ever clinch a major party presidential nomination, which she celebrated in Brooklyn on Tuesday night. That day, she also won the primaries in New Jersey and California -- the last two big states voting.
Then on Thursday, President Barack Obama officially endorsed her for president, saying he doesn't think there's "ever been someone so qualified to hold this office."
Just moments after Obama gave his endorsement, her adversary, Donald Trump, tweeted.
But, Clinton (or whatever genius is running her Twitter account) had the exact right response to Trump's tweet. She simply said:
Clinton used the classic Twitter shade meme to completely shut Trump down.
Naturally, everyone on Twitter lost it.
This guy especially couldn't handle it. Well done, Greg Greene.
This is a hopefully hilarious sign of how the next five months will play out before the general election in November.
Trump has shown he's going to make whatever sexist, sophomoric attacks on Clinton he can, and it's up to Clinton to figure out how to counter them. This is a good first step.
Not to mention, it says what a lot of us were thinking. Trump's been using his Twitter account basically nonstop over the past year to campaign, saying obnoxious things and occasionally retweeting white supremacists.
Clinton's "delete your account" tweet sends one clear message -- Trump, it's on.
We've said it before, we'll say it again: We cannot wait for the debates between these two.
Citations: The Hill