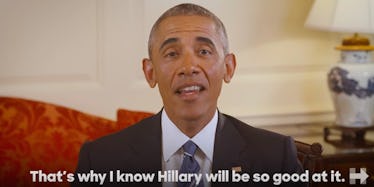 Obama Just Officially Endorsed Hillary Clinton With These Powerful Words
YouTube
President Barack Obama officially endorsed presumed Democratic presidential nominee Hillary Clinton on Thursday.
He did so in a video released by the Clinton campaign. In the video, he says,
Look, I know how hard this job can be. That's why I know Hillary will be so good at it. In fact, I don't think there's ever been someone so qualified to hold this office.
Obama goes on to say Clinton has the "courage," "compassion" and "heart" to run the presidential office well.
He noted how Clinton went on to serve with him as secretary of state, even after losing to him in the 2008 presidential election. He cites they made the decision to launch the mission that killed Osama bin Laden.
Obama used Clinton's campaign slogan, saying he is with her.
Obama also talked about Bernie Sanders. He said he met with him on Thursday and thanked him for spotlighting issues like economic inequality and money in politics, as well as making young people interested in politics.
He said we should continue paying attention to those issues to make the country stronger.
Obama is expected to now hop on and campaign for Clinton up 'til the presidential election in November.