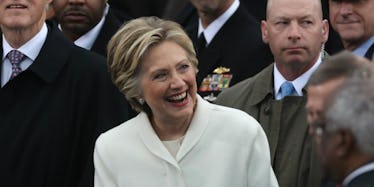 Hillary Clinton Had The Best Response To Trump's 'See You In Court' Tweet
REUTERS
There has never been a better subtweet in American history.
After a unanimous ruling from the three judges in the appeals court to uphold a federal judge's order to halt President Donald Trump's immigration ban, the president instantly went to his personal Twitter to voice his outrage.
Naturally, the internet had a pretty awesome time making fun of the former reality TV star over what appeared to be a caps-lock-rage-fueled-pity-party over the decision made by the three-judge panel of the 9th US Circuit Court of Appeals.
However, the biggest clap back probably came from the former Democratic presidential candidate Hillary Clinton.
Since conceding the election, she has made few public statements and appearances, but this one was just too juicy to miss.
Clinton simply tweeted the following:
Clinton is referring to the three judges who ruled against Trump. And as she won the popular vote, she's absolutely allowed to keep score.
Many other politicians believed Trump's ban was unconstitutional and take this ruling as a means for celebration.
Senate Minority Leader Chuck Shumber (D-NY) said,
President Trump ought to see the handwriting on the wall that his executive order is unconstitutional. He should abandon this proposal, roll up his sleeves and come up with a real, bipartisan plan to keep us safe.
House Minority Leader Nancy Pelosi (D-CA) said the ruling was "a victory for our Constitution and our fight against terrorism."
Pelosi added,
For the sake of our values and the security of America, Democrats will continue to press for President Trump's dangerous and unconstitutional ban to be withdrawn.
While this is a huge victory for protesters of Trump's unconstitutional ban and a nod to former Attorney General Sally Yates, who would not defend his bill and was fired by Trump, there is still more to do.