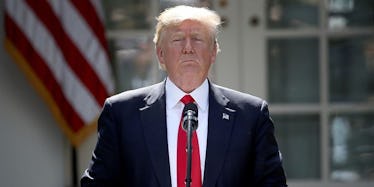 Here's What We Know About Trump's Nominee To Replace James Comey As FBI Director
Win McNamee / Getty Images
Donald Trump has chosen to nominate former Justice Department official Christopher A. Wray to be the new FBI Director.
The president announced his decision on Wednesday morning via Twitter, sharing the news that has been anticipated since he fired former director James Comey last month.
Here's what we know so far about the nominee.
Wray served at the Justice Department under former President George W. Bush's administration.
He was the assistant attorney general heading the criminal division at the DoJ between 2003 and 2005. He first joined the department in 2001 as an associate deputy attorney general.
Wray is a former colleague of former director Comey, who also worked at the Justice Department under George W. Bush.
The two men — Wray on the left and Comey center — are pictured in the photo below, taken from a news conference at the Justice Department in 2004.
Since leaving the Justice Department, Wray has been practicing privately at the King & Spalding law firm, where he serves as chair of the Special Matters and Government Investigations Practice Group, according to CNN.
In the past year, the Yale Law School graduate represented New Jersey Governor Chris Christie during the controversial "Bridgegate" trial, which revolved around the closure of lanes at the George Washington Bridge in Fort Lee, New Jersey, as an allege form of political retaliation.
The news of a potential new FBI director comes just one day before what will be a big moment for the old director.
On Thursday, former director Comey is set to testify before the Senate Intelligence Committee, where he is expected to elaborate on the course of his relationship with Trump before he was fired by the president.
Questions of whether the president acted inappropriately or, worse, committed obstruction of justice were raised after the New York Times reported that Comey wrote a memo alleging Trump tried to influence the FBI's investigative work.
Last month, a friend of Comey's told CNN that the testimony should cause Trump concern.
One thing the president won't have to worry about anymore, though, is finding a replacement for Comey. Christopher A. Wray is that man.