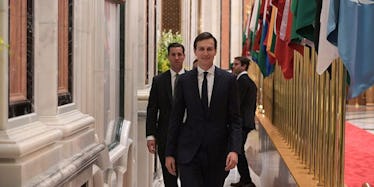 Here's Why Jared Kushner Wasn't With Ivanka At POTUS' First Major Address
Mandel Ngan/AFP/Getty Images
On Monday, Aug. 21, President Donald Trump gave what was regarded as his first major national address, during which he discussed America's war in Afghanistan. It was a landmark moment for Trump's young presidency, one that was naturally attended by those closest to President Trump's — all except for one person. Ivanka Trump was there, but her husband wasn't. It begs the question: Why did Jared Kushner miss Trump's Afghanistan address?
The answer was revealed in a report on Tuesday from Politico.
While other staff members were with Trump at the Fort Myer military base in Arlington, Virginia, Kushner was on his way to the Middle East for a little-know trip, the date for which had not been made public prior to Monday.
Politico reports that the purpose of Kushner's trip to the Middle East is to "focus on the path to substantive Israeli-Palestinian peace talks, combatting extremism, and the situation in Gaza, including how to ease the humanitarian crisis there."
Beides the fact that the timing of Kushner's trip was not publicized (it was announced earlier this month without a specified date), the journey itself does not come as a surprise, particularly because President Trump has repeatedly touted Kushner as the "key" to brokering negotiations between Israel and Palestine.
For that exact reason, eyebrows were raised earlier this month when leaked audio revealed Kushner told a group of interns that he doesn't know whether the U.S. has a unique solution for Middle East peace talks.
Kushner's trip comes after a more leisure journey he took with Ivanka Trump last week. As controversy surrounded the president after his comments on white supremacist protests in Charlottesville -- and as people began to question why Ivanka and Jared had not been influencing the president's approach to said protests -- it was reported that the couple went on a vacation to Vermont.
Now, though, they're back.
Kind of.
As Ivanka Trump returns to the White House, Jared Kushner has the unenviable task of trying to facilitate peace in the Middle East.