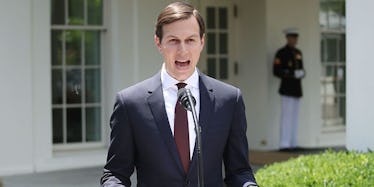 Interns Leaked Audio Of Jared Kushner Meeting Telling Them Not To Leak
Mark Wilson/Getty Image
Before senior White House advisor Jared Kushner spoke in front of a group of congressional interns on Monday, July 31, the interns were explicitly warned about leaking Kushner's speech. A day later, multiple media outlets obtained leaked contents of the speech, which included Kushner providing an interesting defense of Donald Trump's presidential campaign. The warning about leaks first came from Katie Patru, the deputy staff director for member services, outreach, and communications at the Committee of House Administration.
Patru told the interns, per Wired,
To record today's session would be such a breach of trust, from my opinion. This town is full of leakers and everyone knows who they are, and no one trusts them. In this business your reputation is everything.
Apparently, the appeal did not work.
On Tuesday, Aug. 1, Wired published a leaked recording it had obtained after Kushner's speech. During the recording, Kushner tells the interns he doesn't yet know how he'll help ease Middle East tensions. Kushner, who is also Trump's son-in-law, has long been touted by the president as someone who could bring a unique approach to the Israeli-Palestinian relationship.
Kushner said he doesn't know what they have to "offer that's unique," according to Wired, adding that many people have tried to make peace in the Middle East in various ways. He reportedly said,
And there may be no solution, but it's one of the problem sets that the president asked us to focus on. So we're going to focus on it and try to come to the right conclusion in the near future.
The leaks of Kushner's speech come after a period of time during which the subject of leaks out of Washington D.C. had become a topic of increasing interest at the White House.
During the short-lived tenure of former communications director Anthony Scaramucci, leaks were such a focal point that Scaramucci gave an eye-popping interview criticizing his own co-workers for leaking. Scaramucci left his role at the White House on Monday, just 10 days after reportedly earning the job with the blessing of Kushner.
Content of Kushner's speech were also leaked to Foreign Policy, which says it obtained a copy of written notes from the meeting. The White House has not confirmed these quotes. Foreign Policy reported that Kushner took time to defend Trump's presidential campaign, vis-a-vis the Russia investigation, by telling the interns,
They thought we colluded, but we couldn't even collude with our local offices.
Last week, after testifying before Congress, Kushner himself denied personally colluding with Russia.