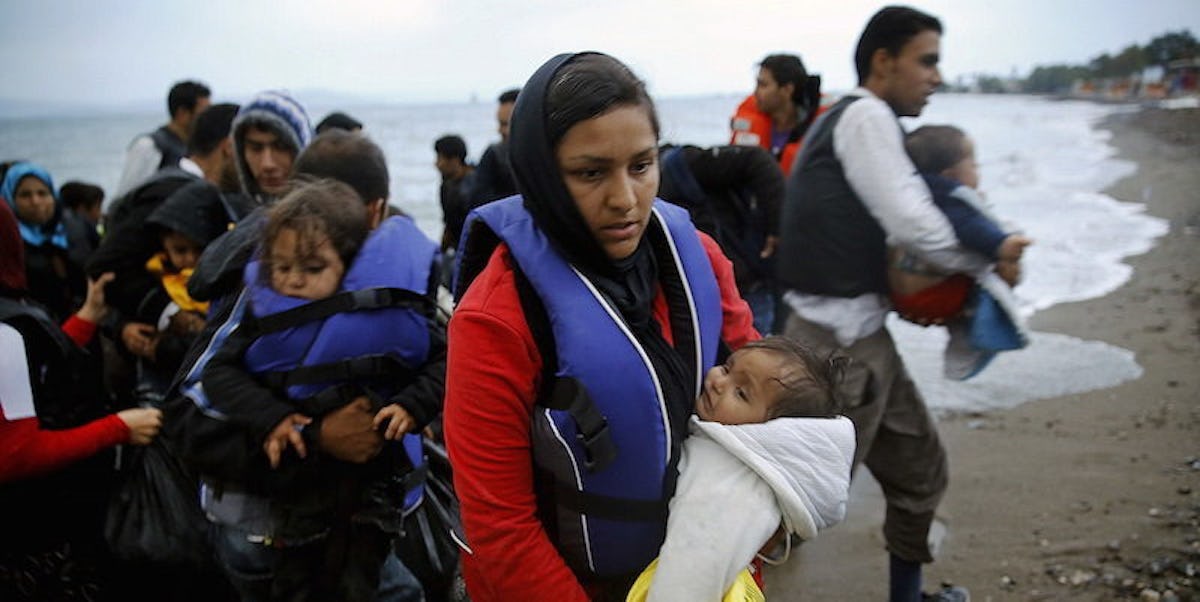 Here's Why The Country Most Welcoming To Refugees Makes Absolutely No Sense
REUTERS
Amnesty International recently surveyed 27,000 people regarding the global refugee crisis in 27 countries around the world, and made some surprising discoveries in the process.
Ultimately, only around 17 percent of the respondents worldwide said they would refuse to let any refugees into their country.
Globally, one in 10 people said they'd take a refugee into their home. Correspondingly, 32 percent said they would accept refugees in their neighborhood, 47 percent said they'd accept them into their town, city or village and 80 percent said they'd accept refugees in their country.
In other words, most of the world says it would be welcoming to refugees, in spite of how often they are painted in a negative light via the media or far right politicians in various countries.
What was truly interesting about the survey's findings, however, was what appeared to be the most welcoming country to refugees: China.
Nearly half of all Chinese people surveyed (46 percent) said they'd be personally willing to accept refugees in their home. This was the highest percentage of any country by far.
It's worth noting nearly all of the respondents in Germany, 96 percent, said they'd welcome refugees into their country.
At the same time, it's not all that shocking Germans said they'd be welcoming to refugees, as they've already accepted more than any other European country.
But the fact China exhibited such welcoming sentiments toward refugees is a bit puzzling, particularly when you view how the Chinese government has responded to the current refugee crisis.
Simply put, there seems to be a decided disparity between how the Chinese public feels about refugees, and what their government has done to help them.
We are currently witnessing the worst refugee crisis of our era. By the end of 2014, there were 19.5 million refugees worldwide, and by June 2015 that number reached 20.2 million, and it's continuing to grow.
The ongoing conflict in Syria has made it the world's largest source of refugees, with 4.7 million worldwide.
According to the UN refugee agency (UNHCR), there are 301,622 refugees in China, the majority (300,895) are from Vietnam. The next largest groups come from Somalia, Nigeria, Iraq and Liberia.
The vast majority of Syrian refugees have ended up in Lebanon, Jordan and Turkey. All of these countries are struggling to deal with such a large influx of people, understandably.
Jordan, for example, is a country of roughly 6.6 million people, but it's hosting over 650,000 refugees. This is more than twice that of China, a country of over 1.3 billion people.
So why isn't China doing more, even as its people would seemingly approve of such a move?
As Liang Pan explains for Foreign Policy, this largely comes down to a lack of government institutions that could adequately support refugees as well as economic concerns. But there are also cultural and religious trepidations, particularly when you view China's complicated relationship with the Uighur Muslim population.
This is not to say that Muslim refugees are dangerous, as some would have you falsely believe, but that the Chinese government is very reluctant to do anything that might shake up its cultural, economic and political landscape.
Still, the results from this recent Amnesty International survey could put pressure on the Chinese government, from both the international community and its own people, to do more to address the current refugee crisis.
With that said, it's pretty safe to say that the entire world could collectively do a lot more to help the global refugee population, which continues to be neglected in major ways.