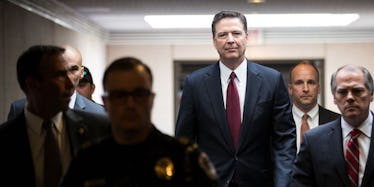 FBI Director Fired By Trump Is Writing A Book, So Get Your Popcorn Ready
Drew Angerer/Getty Images
While he's only been in office for roughly six months, there have been many dramatic moments in President Donald Trump's presidency so far. But his controversial firing of FBI Director James Comey, who was leading an investigation into the Trump campaign's alleged collusion with Russia, definitely stands out. Comey is now set to write a book on his experiences as FBI director, which could offer some interesting details about his relationship with Trump, the Associated Press (AP) reports.
Comey's book currently has no title and will be published next spring, according to the AP.
Flatiron Books informed AP on Wednesday, Aug. 2, that Comey's book will cover anecdotes not yet heard and discuss everything from his handling of the investigation into former Secretary of State Hillary Clinton's use of a private email server to the Russia investigation.
Comey will likely go down as one of the most infamous FBI directors in U.S. history.
Many feel decisions Comey made during the U.S. presidential campaign in relation to the investigation into Clinton's emails directly contributed to Trump's victory. In early May, the former FBI director said it made him feel "mildly nauseous" to think he impacted the direction of the election, although that probably doesn't do much to comfort Clinton and her supporters.
But the drama surrounding Comey hardly stops at the Clinton email investigation, and the information he provided on his interactions with Trump continues to be a point of controversy. Trump allegedly pressured Comey to drop an investigation into former National Security Adviser Michael Flynn, requested his loyalty, and asked what could be done to "lift the cloud" surrounding the Russia investigation.
The circumstances surrounding Trump's relationship with Comey and his dismissal have led people to accuse the president of obstruction of justice. In July, Rep. Brad Sherman went as far as to file an article of impeachment against Trump on these grounds.
Given the central role Comey has played in major events in one of the most bizarre and controversial elections in modern U.S. history, it's probably safe to say many will be interested to see what the former FBI director might reveal in his book.