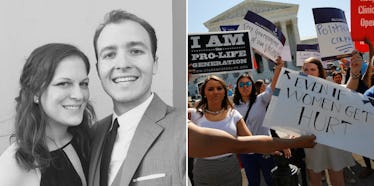 Family's Tragic Story Proves 20-Week Abortion Bans Have Devastating Effects
Lindsay Bubar / REUTERS
Lindsay Bubar and her husband, David Graham-Caso, had just begun to feel their son kick in her belly.
They had ordered furniture for the nursery and started transforming their home to welcome their baby.
They picked out a name and were just waiting for the 20-week doctor appointment to confirm the gender before revealing it to their friends and family.
This was a planned pregnancy. The couple was "incredibly excited" to have their first child.
But Bubar had an abortion at 21-and-a-half weeks of pregnancy after receiving a terrible diagnosis.
"To not have had that access would have been completely devastating and would have certainly changed the course of our lives and our family," Bubar said. "As horrific as the situation was, to have that level of access and care was really everything."
Should some Republican lawmakers have their way, Bubar would not have had that access.
Eighteen states have bans against abortion after 20 weeks on the books, according to Rewire, although some of the bans are being blocked by court orders and legally challenged.
Ohio Governor John Kasich signed a 20-week abortion ban last month, becoming the 19th state. Kentucky Republicans are trying to push a 20-week ban through now.
Republican lawmakers in Virginia are also working on a 20-week ban, although Governor Terry McAuliffe, a Democrat, said he would veto it should they pass it.
In 2016, eight states considered laws banning abortions after six or more weeks of pregnancy.
Congress has also tried to pass 20-week abortion bans to cover the entire country. Although none have made it through, abortion advocates are worried as a Republican-majority Congress takes office under Donald Trump and Mike Pence, both of whom support anti-abortion legislation.
Pregnant women regularly get a check-up at 20 weeks of pregnancy to check on the growth of the baby.
Everything was going well at Bubar's 20-week appointment. The doctor went through various measurements and said they all looked "really great."
But then, the doctor measured her baby's brain. He started taking one measurement over and over again.
"You can just tell when something's not right, you know?" Bubar said. "The tone and energy in the room shifts."
The doctor though it might be hydrocephaly. He advised the couple to get an MRI scan of the baby's brain — and not to Google "hydrocephaly" before that scan.
They got the MRI. Bubar said,
What the MRI scan revealed is that our baby actually had an incredibly rare malignant brain tumor with a likely related case of hydrocephaly.
Their doctor looked at the MRI results, and they went to a specialist who does in-utero surgery.
Bubar and her husband "were so privileged through this whole process to have access to some of the best healthcare and doctors in the world."
But that care could not change the baby's condition. Bubar said,
They gave us the horrible news that there was really nothing that they could do for our son. If he did live at all, then he would have no brain function. He would need to be in and out of surgery for whatever short life he lived. He would never be able to see or hear, talk or smile.
The doctors advised them to wait a week to get another MRI — just to be completely sure.
They waited a week for the second MRI. The wait was "absolutely excruciating."
The second MRI showed the same results.
Bubar and her husband felt lucky, despite the circumstances. She said,
A lot of people in our circumstance are given odds that they have to grapple with. Our case was very clear, that our son would either not live or live a very short life and suffer through that life in and out of surgery. For us, we felt like it wasn't a choice. We felt really lucky that it was so clear.
They went to get an abortion when Bubar was at 21.5 weeks, in November 2013, just as a federal 20-week ban was introduced in Congress.
Bubar and Graham-Caso both work in politics, are informed on laws restricting women's access to healthcare and have supported Planned Parenthood for years.
Bubar's late-term abortion was a three-day procedure. She said,
It was like the world was playing some sick joke on us, but on the final day of the three-day procedure, as we were walking in, my husband and I both got the same alert on our phones that Lindsey Graham had proposed a 20-week abortion ban, the federal one three years ago. It was just, again, this reminder that there were people who likely have no experience — likely have no idea what real families going through this are facing — that were trying to legislate this choice away from us.
With news of the proposed federal ban, they decided to tell their story in the hopes of helping other people going through similar experiences.
They told their story to the 1 in 3 Campaign, adding it to the more than 1,200 abortion stories the campaign features, with the goal of lessening the stigma around abortion.
A lessened stigma around late-term abortion could have comforted Bubar and Graham-Caso. Bubar said,
I didn't know anyone who had ever accessed abortion care for late-term abortion – I actually found out after the fact that I do know many people who have, but people just don't talk about it.
Bubar and Graham-Caso consider themselves lucky for a handful of reasons.
Their son's condition was clear. They had the privilege to see incredible doctors who are experts in their fields.
And they lived in California, where there is no ban against abortion after 20 weeks.
"We had to travel blocks, right?" Bubar said. "We didn't have to travel across the country. Now we're facing a situation where there wouldn't be anywhere to travel if some folks got their way."
Bubar has "no clue" what she would've done if there had been a federal 20-week ban in place. She wondered,
Do you look for doctors who are willing to perform illegal abortions? Do you travel to another country if you have the means? Those would be things I would explore, and of course, I would have been willing to go into debt if I needed to in order to travel. Again, we are coming from a really privileged place. Some people wouldn't have that option.
It's hard for her to think about not being able to have gotten an abortion at all. She said,
Waiting that week [between the first and second MRI], knowing what we were going to face, was excruciating. Being forced to do that for 20 additional weeks, knowing that the end result would be only suffering for however many minutes or hours or days our baby lived… I just, I cannot even imagine having to go through that, being forced to go through that.
Another way the couple feels "very lucky"? They were able to get pregnant again, and their child just turned 2-years-old.
A 20-week abortion ban is an abstract concept. If you don't know a story like Lindsay and David's, it probably doesn't mean much.
Republican lawmakers characterize late-term abortions as cruel murders done by careless women. They talk a lot about "pain" that fetuses go through. Trump described to late-term abortions as "rip[ping] the baby out of the womb."
But the reality is that late-term abortions generally occur under tragic circumstances.
Knowing her baby's condition, Bubar did not think of the abortion as putting her baby through pain, as Graham described it in his proposed federal ban. Rather, she said,
We were able to save our son from minutes, hours, days of suffering and that would've been the only experience he had.
Abortions after 20 weeks are rare. Only 1.3 percent of abortions in America occurred after 21 weeks of pregnancy in 2012.
So while you may know stories of early abortions, it's less likely that you personally know a story of a late-term abortion. Bubar said,
I truly believe that if my situation or a similar one were to happen to any of these legislators or their families, they would feel completely different about the issue. Maybe they wouldn't make the same choice — and that's fine — but living it, and understanding the complexity and just how devastating it is, I would hope that they would understand that this is not something to legislate. It's just not.
Citations: Kentucky Republicans fast-track new abortion restrictions (The Hill), http://abcnews.go.com/Politics/wireStory/virginia-governor-vows-veto-20-week-abortion-ban-44531319 (ABC), https://rewire.news/legislative-tracker/law-topic/20-week-bans/ (Rewire), http://www.huffingtonpost.com/2013/11/07/lindsey-graham-abortion_n_4232942.html (Huffington Post)