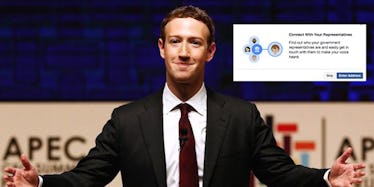 Facebook's New Political 'Town Hall' Feature Could Be Its Most Important Yet
REUTERS/Facebook
Facebook is trying to atone for its political sins by introducing a brand-new feature to get you in touch with your local politician.
"Town Hall" points you directly to your local representatives and gives you a way to both stay updated and get in touch, if need be.
And it's all really very simple, too.
If you're on the phone app, go to settings to find "Town Hall" and click in. If you're on a computer, you can just go to Facebook.com/townhall.
Once there, you'll be prompted to provide your address to locate your local representatives.
That way, you can "easily get in touch with them to make your voice heard."
Now, if you're like me, you don't really want to give Facebook any more of your personal information, so maybe consider lying a little. Whatever — as long as you stay within your district.
After you submit your address, Facebook will show you your local politicians.
"Town Hall" first lists your most local representatives, including public advocates and council members.
From there, it lists your state representatives, including your state senator and governor.
Finally, it shows you your federal representatives, including your US senators and congressperson.
You can choose to follow these representatives through Facebook, which will put their updates in your feed. Hopefully they use Facebook well.
You can also choose to contact each representative through Facebook, which is done through the "Messages" feature.
Contacting politicians on Facebook is a growing trend. Last year, President Barack Obama opened up his Facebook messages to the public to reach him.
Similarly, the Trump White House had its public comment line shut down in favor of having people reach out through Facebook.
The new feature will also give you reminders when local elections are coming up in your region so you can get ready to go out and vote.
These are great tools to utilize on platforms you're already using. Just make sure you're not sharing fake news.
Citations: Facebook's 'Town Hall' is probably the best thing the social network has ever done (Mashable)