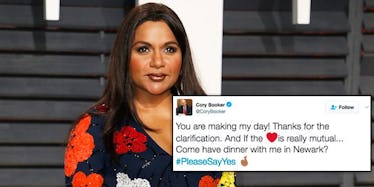 Everyone's Shipping Mindy Kaling And Cory Booker After Flirty Twitter Convo
Reuters/Twitter
Mindy Kaling and Senator Cory Booker exchanged some flirty tweets on Thursday, and it caused a stir.
The New Jersey senator was referenced on Kaling's TV show, "The Mindy Project." Kaling's character mentions Booker by name and then makes fun of Newark, where he previously served as mayor.
Booker is known for being quite chatty on Twitter, and Thursday was no exception to that rule.
He hopped on to tweet at Kaling.
The Democrat tweeted,
Ouch! [...] heard Dr. Lahiri dissed Newark last night
Booker said he disagreed with the diss, and backed it up with a link to a Vogue guide on visiting Newark.
He ended the tweet by saying he still <3s her. (OOOOOH.)
Kaling hastily responded, assuring him she does not feel the same as her character.
Kaling's character on the show is a non-PC alter-ego of real-life Mindy, so this reasoning stands up.
Clearly having gained some confidence from Kaling's tweet, Booker went ahead and boldly asked her to join him for dinner in Newark.
Kaling agreed to dinner, quipping she just needed the PATH schedule (to get her from New York to Newark).
Then, the PATH Twitter jumped in with the best interruption of all time, giving her the full schedule.
Booker was pleased with this, but wanted to one-up PATH for his successful dinner-date-to-be.
Damn, Cory, that's smooth.
Naturally, people on the internet were very excited by the idea of a Kaling-Booker relationship, and took to Twitter to gush over the potential couple.
Twitter King Booker was particularly piqued by one person who referred to Newark's bustling restaurant scene.
However, it might take some time for Booker to have that dinner.
The Senate is a little bit busy right now handling things like Neil Gorsuch's possible confirmation to the Supreme Court and a potential controversial health care bill coming in from the House Republicans.
Indeed, Booker's flirty tweet to Kaling came between throwing shade at President Donald Trump for the health care plan and retweeting the story of a black man killed by a white supremacist.
But, you know, talking to Mindy is important, too.
Citations: Cory Booker and Mindy Kaling flirted over Twitter and we are shipping them big time (Mashable), Did Senator Cory Booker and Mindy Kaling Just Set Up a Real-Life Date Over Twitter? (Vulture)