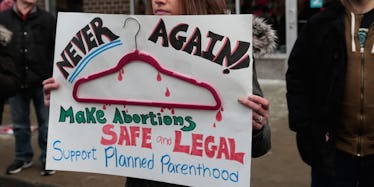 Women At Capitol Speakout Share Abortion Stories As Men Determine Their Fate
REUTERS
Women gathered on the steps of Capitol Hill to tell their abortion stories as women's rights to abortion were discussed inside the Senate.
The 1 in 3 Campaign, which is an Advocates for Youth project sharing real abortion stories to help decrease the stigma around the procedure, organized "Stories from the Resistance" on Tuesday, March 21.
These women explained to lawmakers why abortion is a vital right and how all stories are different. They also shared their stories in a six-hour livestream online.
"When we cast aside stigma and judgment, we can create a culture that is more empathic and understanding of the complexities of our lives," Gaby Hoffmann, star of "Transparent" and "Girls," who joined the speakout, said in a statement. "One of the best ways to cultivate compassion is through storytelling."
While the women were outside telling their stories, a man was inside discussing the future of their rights.
Neil Gorsuch is undergoing a confirmation hearing to decide if he will be officially appointed to the Supreme Court.
During the hearings, Gorsuch has been repeatedly asked about his views on Roe v. Wade, which made abortion legal nationally in 1973.
Senator Dianne Feinstein, a Democrat from California, asked Gorsuch if he believed Roe v. Wade created a "super precedent," meaning it's super the established, confirmed law.
Gorsuch said he respects opinions in that they help us move forward from discussing controversial topics.
"It has been reaffirmed many times, I can say that," he said about abortion rights.
Feinstein replied, "Yes. Dozens."
Gorsuch has not ruled on an abortion case in his time as a judge, but he is more conservative leaning.
He did previously rule on birth control in the Hobby Lobby case, declaring companies did not have to provide insurance coverage for birth control for employees, based on religious beliefs.
Shae Jackson, a senior at Spelman College in Atlanta, was one of the women who told a story at the speakout on Tuesday.
She had to go off birth control because of blood clots.
When she was a sophomore, the 20-years-old got pregnant. She knew she didn't "have the means to have a baby" and it was "not in my mind to have it at all."
Jackson's partner was on the same page. She went to a clinic and had an abortion.
She kept her abortion a secret from her parents for a year, thinking they wouldn't approve. But when she told her mother about it, her mother told her own story and was only disappointed she couldn't help her daughter through it.
Because of this experience, she decided to share her story with 1 in 3 and join the Lobby Day on Tuesday.
"I was thinking about people who have a lot more support than they think," Jackson said.
She hoped it would teach lawmakers the "diversity of stories is the most important thing they could ever realize." There is no one abortion story. Every story is different.
Jackson hoped the day moved Congress to have "nuance in how they do their lawmaking, because there's nuance in life and experiences, and they need to understand that."
Citations: Gorsuch to Feinstein: Abortion ruling is 'precedent' (Fox News)