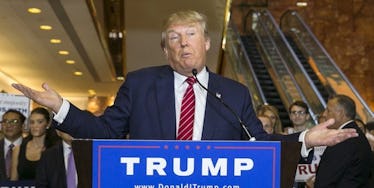 There Was A Terrorist Attack In NYC This Week And Trump Didn't Say Anything
REUTERS
There was a terror attack in New York City this week, President Donald Trump's hometown, but he hasn't said a thing about it.
A white supremacist, James Harris Jackson, 28, traveled from Baltimore to New York City to kill black men.
According to The Washington Post, authorities said Jackson had been harboring racist sentiments for quite some time.
On Monday, he ended up acting on these abhorrent feelings and stabbed a 66-year-old black man with a sword. The man, Timothy Caughman, died.
This is a tweet from Caughman, in which he declared his love for America.
Responding to this awful tragedy, William Aubry, assistant chief of the New York City Police Department, said,
The reason why he picked New York is 'cause it's the media capital of the world. And he wanted to make a statement.
Jackson came to New York City to spread fear and hatred.
What he did was not only a hate crime, it was an act of terror.
His actions were not only an assault on a human being, but an assault on New York City and its unapologetically inclusive spirit -- and an assault on America's values.
As New York Mayor Bill de Blasio put it,
On Monday evening an innocent man was stabbed to death in what appears to be an unprovoked attacked prompted by the victim's race. More than an unspeakable human tragedy, this is an assault on what makes this the greatest city in the world: our inclusiveness and our diversity. The NYPD has put the alleged perpetrator behind bars where he belongs. Now it's our collective responsibility to speak clearly and forcefully in the face of intolerance and violence – here or across the country. We are a safe city because we are inclusive. We are a nation of unrivaled strength because we are diverse. No act of violence can undermine who we are.
The mayor was right to say, "No act of violence can undermine who we are."
But what does undermine us is our president's refusal to speak out against deadly, premeditated violence motivated by racism.
We claim to be a country that stands against hatred, where all men and women are "created equal," but our president has completely ignored a deeply disturbing example of lethal intolerance.
Much like Trump's belated denouncement of the antisemitism that's been sweeping the nation since his election, the silence from him on this speaks volumes about his priorities.
What is not said is often more important than what is.
Even though Trump lost the popular vote -- a fact he's refused to fully acknowledge -- and has an extremely low approval rating, he is still the figurehead of this country right now.
Trump's unpopularity does not change the unfortunate fact that his actions reflect on all of us, and his silence on this is shameful.
Citations: White man traveled to New York to kill black men and 'make a statement,' police say (The Washington Post)