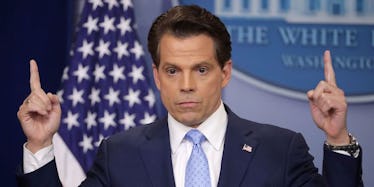 Everyone Is Making The Same Joke About The White House's New Communications Director
Chip Somodevilla/Getty Images
Friday, July 21 was full of drama for the White House communications team. But as anyone knows, White House drama breeds great tweets, and "Anthony Scaramucci" sounds a lot like a "Bohemian Rhapsody" line.
Scaramucci was appointed White House communications director, which led to Sean Spicer's resignation, reportedly because he did not like President Donald Trump's pick of Scaramucci. Spicer apparently didn't like Scaramucci as communications director because of his lack of official political communications experience.
Elite Daily reached out to the White House for information about the resignation and Spicer's reported dislike of Scaramucci, but did not hear back at publication time.
As the dust settled, Spicer was out and Scaramucci was in. Meanwhile, Sarah Huckabee Sanders was promoted to press secretary of the White House, so she'll be the one in charge of the infamous press briefings. Spicer will stick around for a few more weeks, but that's it for White House Spicey.
Anyways, let's get to the memes.
As mentioned, Scaramucci is reminding, like, everyone on the internet of "Bohemian Rhapsody."
Now, if you're not Italian like me, that might be confusing, so let's go over the name. It's pronounced "Scar-a-moo-chee."
And, yup, there's a line in Queen's classic epic song "Bohemian Rhapsody" that includes the word "Scaramouche," pronounced "Scar-a-moosh." Pretty similar, huh?
With the announcement of Scaramucci as communications director, suddenly all of Twitter had "Bohemian Rhapsody" stuck in their heads.
Many went ahead and just quoted Queen, so that those who didn't have it in their heads already would be forced to hear it.
Some people had a little more fun remixing "Bohemian Rhapsody" to be more relevant.
The context around "Scaramouche" makes the whole thing even sillier.
See, Scaramouche isn't a made-up word. It's the name of the clown character in old Italian comedy theater.
So that's fun.
(And "fandango," by the way, is a dance.)
Sounds like we're going to have Queen stuck in our heads for at least some time, so we better get used to it... or put it all on mute.