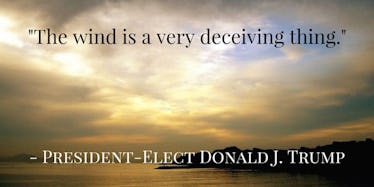 We Turned Trump's NYT Quotes Into The Inspirational Posters You Always Needed
Flickr
President-elect Donald Trump sat down for an on-the-record meeting with the New York Times on Tuesday afternoon.
Trump has been meeting with members of the media all week, mostly to questionable results.
He held an off-the-record (meaning no quotes from Trump were allowed to be published) meeting with a group of media members on Monday.
Sources told the New York Post that meeting was "like a fucking firing squad" as Trump berated all of them.
But the Times requested an on-the-record meeting. On Tuesday morning, Trump tweeted the meeting was canceled.
The Times found out Trump had canceled it only when they saw his tweet.
.@nytimes found out session was canceled via @realDonaldTrump tweet, per @mlcalderone https://t.co/vcHYxWJTKq pic.twitter.com/HVfkNKqM0u — Staci D Kramer (@sdkstl) November 22, 2016
It's possible Trump canceled the meeting because Republican National Committee Chairman Reince Priebus lied to him to try and stop him from having an on-the-record meeting.
Within a few hours, Trump tweeted the meeting was back on. The Donald made his way to the New York Times building in Manhattan.
He met with heads and reporters at the newspaper, who asked a series of questions about his administration from climate change to Russian relations to racist alt-right organizations.
On Wednesday morning, the Times published a transcript so we could all see exactly what Trump had to say.
And then we went ahead and turned some of the quotes from the meeting into inspirational posters.
Donald Trump on a potential conflict of interest:
Trump was asked if he discussed wind farms with leaders of Brexit, which would have been a potential conflict of interest as it concerns one of his golf courses.
Full quote:
I might have brought it up. But not having to do with me, just I mean, the wind is a very deceiving thing. First of all, we don't make the windmills in the United States.
On how he would separate his business and the presidency:
Trump was asked how he would structure his company so as to not have it interact with his presidential work.
Full quote:
I assumed that you'd have to set up some type of trust or whatever and you know. And I was actually a little bit surprised to see it. So in theory I don't have to do anything. But I would like to do something. I would like to try and formalize something because I don't care about my business.
On how Trump will handle Republicans who opposed him:
Full quote:
And a senator in Nevada who frankly said, he endorsed me then he unendorsed me, and he went down like a lead balloon. And then they called me before the race and said they wanted me to endorse him and do a big thing and I said, 'No thank you, good luck.' You know, let's see what happens. I said, off the record, I hope you lose. Off the record. He was! He was up by 10 points — you know who I'm talking about.
On America's relationship to NATO and Russia:
Trump was asked what he believes America's relationship is with NATO and Russia.
Full quote:
NYT: NATO, Russia? Trump: I think going in was a terrible, terrible mistake. Syria, we have to solve that problem because we are going to just keep fighting, fighting forever. I have a different view on Syria than everybody else. Well, not everybody else, but then a lot of people. I had to listen to [Senator] Lindsey Graham, who, give me a break.
On a meeting that was potentially a conflict of interest:
Trump was asked about a meeting he had this past week with partners of the Trump businesses, which he is not supposed to be handling as president. The meeting was documented in a photo.
Full quote:
I mean, if a partner comes in from India or if a partner comes in from Canada, where we did a beautiful big building that just opened, and they want to take a picture and come into my office, and my kids come in and, I originally made the deal with these people, I mean what am I going to say? I'm not going to talk to you, I'm not going to take pictures? You have to, you know, on a human basis, you take pictures.
Full quote:
Um, I've known Steve Bannon a long time. If I thought he was a racist, or alt-right, or any of the things that we can, you know, the terms we can use, I wouldn't even think about hiring him. First of all, I'm the one that makes the decision, not Steve Bannon or anybody else.
On climate change:
Trump was asked if he had an open mind on climate change.
Full quote:
My uncle was for 35 years a professor at M.I.T. He was a great engineer, scientist. He was a great guy. And he was … a long time ago, he had feelings — this was a long time ago — he had feelings on this subject. It's a very complex subject. I'm not sure anybody is ever going to really know. I know we have, they say they have science on one side but then they also have those horrible emails that were sent between the scientists.
On windmills:
Continued from his answer on potential Brexit wind conflict of interest:
The windmills are devastating to the bird population, O.K. With that being said, there's a place for them. But they do need subsidy. So, if I talk negatively. I've been saying the same thing for years about you know, the wind industry.
On who from the New York Times can talk to Trump:
Unprompted, Trump said Arthur Sulzberger Jr., publisher of the New York Times, can call him if he got something wrong. However, Maureen Dowd, famous opinion columnist, can not call him.
More on dealing with Republicans who disagreed with him:
Trump was asked about his meeting with Obama.
On growing business in the United States:
Trump said he would keep factories in the U.S. He was then asked if he was worried the factory workers would lose their jobs to robots.
Full quote:
It's a big thing, we'll make the robots too. Right now we don't make the robots. We don't make anything. But we're going to, I mean, look, robotics is becoming very big and we're going to do that.
More on how he would keep his business and the presidency separate:
Full quote:
In other words, in theory, I can be president of the United States and run my business 100 percent, sign checks on my business, which I am phasing out of very rapidly, you know, I sign checks, I'm the old-fashioned type. I like to sign checks so I know what is going on as opposed to pressing a computer button, boom, and thousands of checks are automatically sent. It keeps, it tells me what's going on a little bit and it tells contractors that I'm watching. But I am phasing that out now, and handing that to Eric Trump and Don Trump and Ivanka Trump for the most part, and some of my executives, so that's happening right now.
And more on conflict of interest:
Full quote:
As far as the, you know, potential conflict of interests, though, I mean I know that from the standpoint, the law is totally on my side, meaning, the president can't have a conflict of interest. That's been reported very widely. Despite that, I don't want there to be a conflict of interest anyway. And the laws, the president can't. And I understand why the president can't have a conflict of interest now because everything a president does in some ways is like a conflict of interest, but I have, I've built a very great company and it's a big company and it's all over the world.
On betraying his fan base:
Trump was asked if he would run his presidency on more strictly Republican platforms than how he campaigned. He was asked if he worried the people who supported him would feel betrayed.
Bonus: Priebus on how many people Trump won Florida by:
Trump:Florida we won by 180,000 — was that the number, 180? Priebus: [inaudible] Trump: More than 180,000 voted, and votes are still coming in from the military, which we are getting about 85 percent of.
The transcript was certainly illuminating.
Citations: New York Post, Huffington Post, New York Times