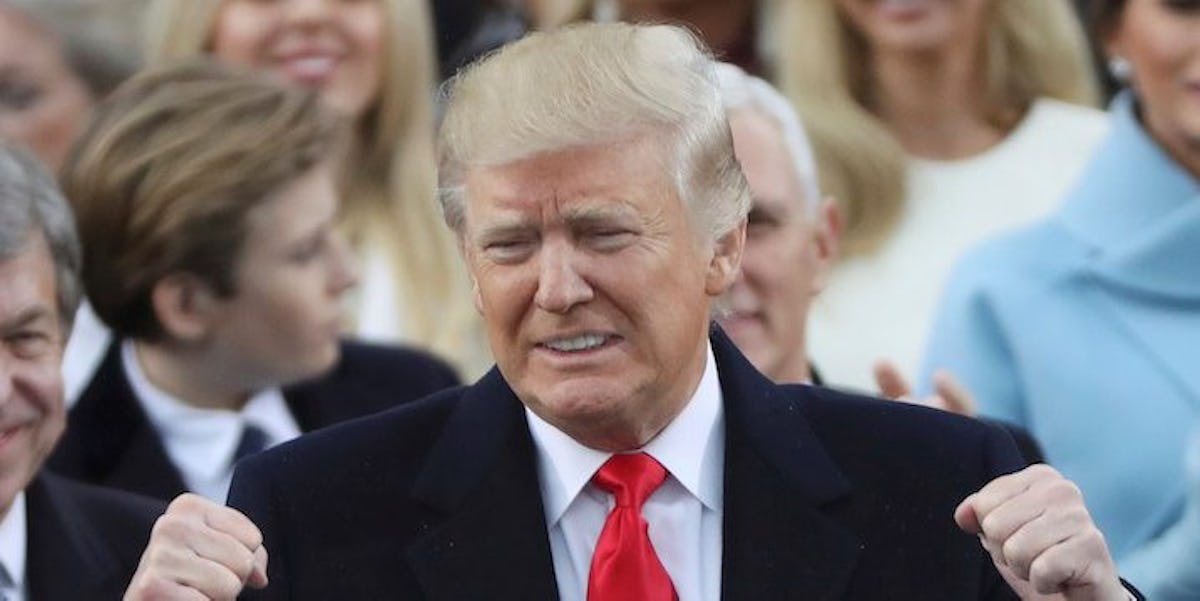 Donald Trump Stars In A PornHub Video And The Title Is Ruthlessly NSFW
REUTERS
President Donald Trump is in a PornHub video.
Yes, you read that correctly.
But, before you get completely grossed out, it's not your typical porn video.
Someone, some genius internet hero, uploaded Trump's inauguration speech video to PornHub with the title, "Rich white guy fucks the entire country at once."
Whoever did this deserves a round of applause.
A screenshot of the video has been shared around on social media.
It's hard not to wonder how whoever tweeted that just happened to come across a Trump-related PornHub video, but who am I to judge?
At first, the image that was getting shared around was apparently just a meme, and the video wasn't actually on the porn website.
PornHub Vice President Corey Price told the Observer,
The Donald Trump image was a video screenshot that someone turned into a meme, not a real upload,
But then someone actually uploaded Trump's inauguration speech to PornHub with that ruthlessly NSFW title.
PornHub doesn't appear to have any problem with this. According to what Price told the Observer,
As long as it doesn't violate our Terms of Service, it is permitted.
The internet is often a terrible place, but sometimes it does beautiful things.
This is all yet another reminder of how unpopular Donald Trump is at the moment.
He's actually setting records for presidential disapproval ratings.
On Saturday, January 28, Trump's disapproval rating rose to 51 percent.
In just eight days, he turned a majority of the country against him. No president in modern US history has reached a majority disapproval rating faster than Trump.
Trump spent his first week as president attacking reproductive rights, immigrants, refugees and Muslims, among other things.
A lot of Americans are clearly not happy about this, so this might not be the last time we see a PornHub video that pokes fun at Trump, while also capturing how miserable much of the country is.
Citations: Tired of News? Head to PornHub to Watch Donald Trump Bang the Entire Country at Once (Observer), Donald Trump speech uploaded to PornHub as 'rich white man f***s the entire country at once' (Indy100)