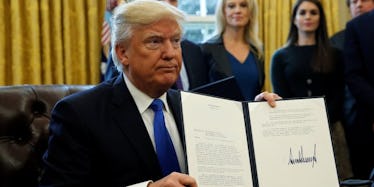 Trump's Go-Ahead For Keystone Pipeline Proves Scary Point On Who He Ignores
REUTERS
TransCanada, the company behind the Keystone XL oil pipeline between the US and Canada, has received a permit from President Donald Trump to move forward with the project.
The move represents a major diversion from the Obama administration's stance on the controversial topic.
During his time in office, former President Barack Obama rejected the $8 billion pipeline, claiming it went against the long-term interests of the country and would only contribute more emissions linked to global warming.
Back in January, Trump signed an executive order to advance the construction of the pipeline, promising 28,000 new jobs would be created as a result.
White House Press Secretary Sean Spicer tweeted earlier this morning that President Trump would make an announcement about the Keystone XL pipeline at 10:15 am ET.
Among those reportedly scheduled to be at the White House for the announcement are TransCanada Chief Executive Russell Girling and Sean McGarvey, president of North America's Building Trades Unions.
Girling said in a statement,
We greatly appreciate President Trump's Administration for reviewing and approving this important initiative, and we look forward to working with them as we continue to invest in and strengthen North America's energy infrastructure.
The construction of the Keystone pipeline has been an intense subject of debate for the last seven years.
On the other hand, those in favor of the project (mostly Republicans) claim it will boost the American economy, provide the US with a stable oil supply and create several thousand jobs.
During his campaign, one of President Trump's many pledges included a promise to rebuild the country with American steel.
However, this can't possible apply to the Keystone pipeline, as it is technically already under construction, and the steel is not necessarily all from the US.
White House spokeswoman Sarah Huckabee Sanders said it'd be hard to do an "about face" on the work that's already been done.
But, because Donald Trump is, well, Donald Trump, he can't help but lie.
In recent weeks, Trump has stated both the Keystone and the Dakota Access pipelines must use American steel, "or we're not building one."
It's already being built, though. So, there's not much you can really do about it, Donny.
If you're feeling pissed about the pipeline, take some solace in the fact the project still requires approval from state regulators, and it could face legal challenges before it's officially built.
Citations: The company behind the Keystone Pipeline just got a presidential permit to go ahead (Business Insider), Trump to approve Keystone XL pipeline after breaking 'American steel' promise (AOL), The nine Senate Democrats who support the Keystone XL pipeline (MSNBC), Donald Trump's pledge to use only U.S. steel is loaded with caveats (The Washington Post), Keystone pipeline won't have to be built using US steel (AP), Here's How Keystone Opponents Will Challenge Trump's Attempt To Jump-Start Pipeline (Forbes)