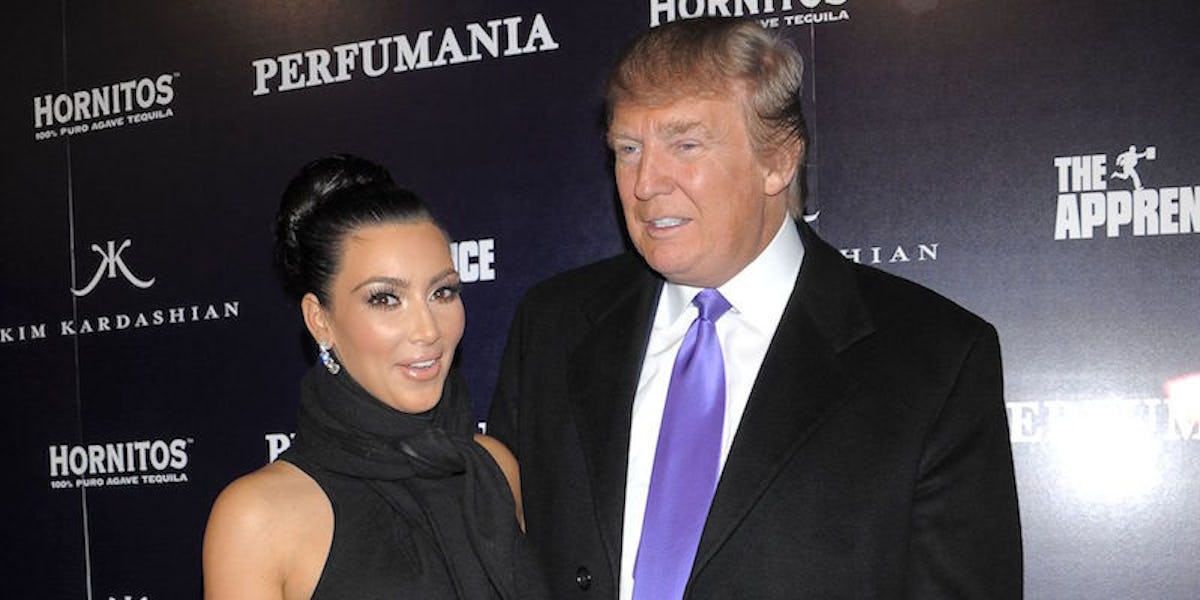 Donald Trump Calls Pregnant Kim Kardashian A 'Bit Large' In Resurfaced Video
REX/Shutterstock
Donald Trump is a man of way too many words. Mean, exaggerated comments are his specialty.
In an interview from 2013, Trump was asked by HLN's "Showbiz Tonight" about Kim Kardashian's decision to register for gifts for her baby shower while pregnant with her daughter, North, even though she's wealthy.
Trump started off nice. He commented that there's nothing wrong with asking for gifts despite having money. He even said,
She's a nice person, I've known her over the years. She's really a nice person.
The two go back to the presidential candidate's "The Apprentice" days. Kim was once a guest on the show in 2010.
Then, out of nowhere and completely unprompted, Trump said this about Kim's baby body,
She's gotten a little bit large. I would say this, I don't think you should dress like you weigh 120 pounds.
Wow. And we all know "A bit large" just means "fat."
Hey Trump, have you not seen a pregnant woman before? Getting "a little bit large" is part of the deal. And why even make that comment? It literally adds nothing of substance to the interview.
Here's what she was wearing, by the way.
The reporter, who is obviously a sane human being, immediately replied, "Why not? She feels good about herself."
Trying (and failing) to quickly save himself, Trump said,
I think that's great. If she feels good about herself, do it, Kim.
Real convincing, Trump.
But are we surprised? Trump has a history of saying hurtful things about women. Let's also not forget he once called the former Miss Universe Alicia Machado, who won in 1997, "Miss Piggy."  Seriously, Trump?
He disgusts me.
Kim isn't voting for Trump anyway. She had a brief moment of doubt after having a deep discussion about politics with Caitlyn Jenner, but ultimately decided she's voting for Hillary Clinton.
Anything Donald Trump has said about a woman, Hillary Clinton would never say.
Elite Daily and 50 other media organizations partnered with Rock The Vote to register 100,000 women to vote. You can register right here (and men can use it too) :
Citations: Donald Trump Said Pregnant Kim Kardashian Was 'a Bit Large' in Newly Resurfaced 2013 Interview (US)