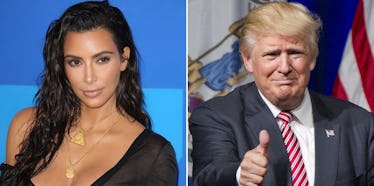 Kim Kardashian Says She Might Change Her Mind And Vote For Donald Trump
REX/Shutterstock
Who will Kim Kardashian be voting for on November 8? Time will certainly tell.
While some might expect the 35-year-old star to vote for Hillary Clinton without hesitation, it seems like Kim might actually be considering voting for Donald Trump... Seriously.
Up until this point, Kim Kardashian's support for Hillary Clinton has been public knowledge. She openly expressed her support for the Democratic nominee during an interview with GQ.
The interview stated that Kim had identified as a "liberal Republican" in the past. That's code for "fiscally conservative but socially progressive."
She then stated that she now votes Democrat and chooses to form her own opinions on politics rather than inheriting her parents' views,
As I've grown up, I decided what I think is best for me instead of what my parents would have voted for.
She confirmed her support for Clinton in August of last year with this selfie.
While this might appear to be a stamp of approval from Kim, it's important to remember that selfies don't mean a damn thing.
As a matter of fact, it sounds like Kim Kardashian might be changing her mind on who she's voting for in November (or so it seems).
She actually expressed that she could be considering voting for The Donald after an in-depth chat with Caitlyn Jenner.
In a recent interview with Wonderland magazine, Kim stated,
At first, I thought, 'Oh my God, I'm so Hillary [Clinton],' but I had a long political call with Caitlyn last night about why she's voting Trump. I'm on the fence.
So, now we have to question Kim's personal values? Thanks, Caitlyn Jenner. Thanks a lot.
As for Donald Trump, well, I'm sure he wouldn't mind gaining support from one of the most influential public figures in the world just months before the presidential election.
In a past interview with Yahoo! Politics, the 70-year-old real estate magnate was asked about his relationship with Kim. He said,
Well, look, she was so nice to me. I mean every time I see her she's just — I'm just going to say she was always nice to me.
Anyone know what Kanye West thinks about all of this?! Not quite.
However, Kim did speak on the possibility of West running for president himself in 2020 after mentioning Trump's wife Melania. She said,
Look at all the awful things they're doing to Melania [Trump], putting up the naked photos [of her]… I'll say to Kanye: 'Babe, you know the kind of photos they'd put up of me!'... I don't want to put words in his mouth, but I'm pretty sure [he would run for] the Democrats. Maybe independent? I don't know how serious he is about it. We'll see.
Ah, Kim. You never cease to amaze us with your flip-floppy political views.
Look, if you DO actually wind up voting for Trump, that's totally your choice to make... but just keep in mind that you'd be voting to have a deranged, racist, misogynist pathological liar lead our country.
Hopefully, your conversation with Caitlyn Jenner touched on those topics as well! In the meantime, I'll be anticipating Kanye's presidential bid.
Citations: Kim Kardashian Is Suddenly (And Disappointingly) Considering Voting For Donald Trump (Huffington Post)