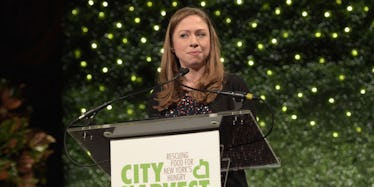 Donald Trump Came For Chelsea Clinton And Her Clapback Was So, So Savage
Jason Kempin/Getty Images for City Harvest
On Monday, July 10, Chelsea Clinton retweeted President Donald Trump's tweet about her and responded to it. In his first tweet, Trump defended his daughter, Ivanka Trump, for stepping in for him at the G20 Summit... by comparing his mini-scandal to a made-up, hypothetical situation involving Chelsea and Hillary Clinton.
Chelsea Clinton was not having it.
Trump originally tweeted on Monday morning in defense of his daughter:
Trump was assumedly defending his daughter following the G20 Summit this weekend in Hamburg, Germany. On Saturday, Ivanka took her father's seat to represent the United States at an official meeting, in what was considered an unprecedented break with protocol. This prompted swift backlash for the Trump family.
Here was Clinton's response:
Trump's original tweet was an easy set-up for Clinton to fire back. By using the hypothetical example of if Hillary Clinton "gave our country away" as a fill-in for what actually happened with him and his own daughter, Trump suggests that that's exactly what he was doing when Ivanka took his place at the table.
Clinton caught Trump in his own logical implication, saying, "Were you giving our country away? Hoping not."
When Clinton says that neither of her parents would think to even ask her to take their place on the world stage, she's right. Even if a president needs to simply use the restroom, it's usually a high-ranking official who will cover for them, not a relative.
The Clinton family is no stranger to criticism -- or to Trump's shade -- nor is it the first time Clinton's taken the mic to stand against it.
Once again, Clinton handles the trolling like a true champ. In less than 140 characters, she cut down his argument, defended her mother, father, and herself while simultaneously refusing to stoop to his level.
While Clinton could have taken jabs at Trump with any number of low-hanging fruit, she even had the class to begin her response with "Good morning Mr. President."
Clearly, we can all take a page from Clinton's book on how to deflect the haters when they throw shade -- and how to do it concisely.