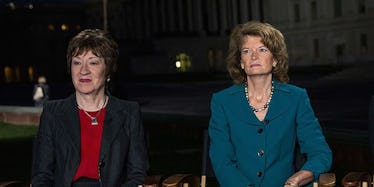 Of Course A Man Gets The Glory For Doing What Women Had Been Doing On Health Care
Andrew Burton/Getty Images
At around 1:30 a.m. ET on Friday, July 28, Senator John McCain voted against the GOP's "skinny repeal" act to partially repeal the Affordable Care Act (ACA, aka Obamacare). His vote helped to knock down the repeal act. But his vote against it wouldn't have done anything if it weren't for two women. Republican Senators Lisa Murkowski and Susan Collins voted against the skinny repeal, but McCain's been getting all the glory.
With the number of Republican senators in office right now, the GOP could only afford to have two Republicans vote against their skinny repeal plan, assuming that all Democrats voted against it. Two Republicans voting against the bill would've left it at 50-50. Vice President Mike Pence was actually there to break that tie.
But once McCain voted "no," it was clear that there would be no tie to break -- the Republicans lost one too many votes.
Immediately, praise started coming in for McCain's vote on the skinny repeal.
McCain's vote was dramatic, to be sure, which accounts for why it's getting a lot of attention. McCain had voted along party lines earlier in the week, to the criticism of many, so him voting against them came as a bit of a shock.
And McCain did the actual vote in a dramatic fashion, not revealing his intentions until he was called in the roll call. Then, he theatrically held out a hand, waited a breathtaking moment, and finally dropped a thumbs down, indication a "no" vote.
But for all his theatrics, McCain's vote only mattered because of two Republican women.
Senators Murkowski and Collins have been against the GOP's health care plan since the very start of the Senate debate. They were particularly concerned about Planned Parenthood and Medicaid reform, noting that the GOP taking away funding would hurt the people they represent. Meanwhile, Republican women were left out of the conversations to put together the pieces of legislation.
Murkowski and Collins have been standing against their party on behalf of their people throughout weeks of votes. Pence was on-hand on Friday morning because they knew Murkowski and Collins would vote against the skinny repeal.
People have also praised McCain for returning to vote against the repeal after his brain cancer diagnosis. But on the other side of the aisle, Democratic Senator Mazie Hirono has been voting against repeals since her kidney cancer diagnosis in May and surgeries in May and June.
And it hasn't been easy for these Republican women.
Murkowski and Collins have been physically threatened by their male colleagues because of their votes. Representative Blake Farenthold said "if [they were] a guy from South Texas, I might ask him to step outside and settle this Aaron Burr-style," referring to Murkowski and Collins, along with Senator Shelley Moore Capito, who all voted against repealing Obamacare without a replacement last week.
Murkowski has been targeted by President Donald Trump, who called her out in a tweet on Wednesday, July 26. This led to Representative Buddy Carter of Georgia saying "somebody needs to go over there to that senator and snatch a knot in their ass" about her.
It didn't stop there. Secretary of the Interior Ryan Zinke called Murkowski and Dan Sullivan, the other Alaskan senator, and threatened that Murkowski's vote could hurt their standing with the Trump administration. (There was just one issue for Zinke: Murkowski is the chairwoman of the Senate Energy and Natural Resources Committee, and after his call, she delayed a vote on nominations for his department. Woops!)
Murkowski and Collins have been putting in the work, so of course a man gets the glory.
Men routinely get more recognition than women for doing similar work.
It happens at home, where an idea presented by a man will be praised, while when it was presented by a woman, no one cared. Meanwhile, at work, women do the "invisible labor" that keeps offices running, often without recognition. It happens at home, where women do a majority of the work, but a man is praised if he, say, offers to change a diaper. It happens in culture, where Matt McGorry gets praised for calling himself a feminist, while women get mocked and targeted for doing the same.
Murkowski and Collins were vital to this repeal getting knocked down. They have been there consistently since the start of the Senate debates. If anyone should be getting praise, it's them.