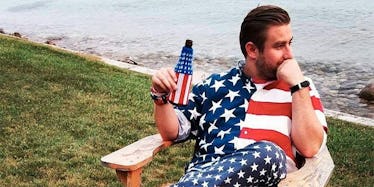 Conspiracy Theorists Think A DNC Staffer's Murder Was Linked To WikiLeaks
Facebook/Seth Rich
The family of deceased Democratic National Committee staffer Seth Rich has criticized reporting linking him -- and his death -- to WikiLeaks.
This week, Fox News reported a claim that Rich had leaked "thousands" of emails to WikiLeaks, the organization that released emails from the DNC during the presidential campaign. This counters the prevailing story that DNC emails were hacked by Russians.
Brad Bauman, a spokesperson for relatives of Rich, slammed Fox, as well as other right-leaning publications that reported on the story, telling Business Insider,
It's sad but unsurprising that a group of media outlets who have repeatedly lied to the American people would try and manipulate the legacy of a murder victim in order to forward their own political agenda. I think there is a special place in hell for people like that.
Fox News has since updated its original story to center on the family's denial rather than the WikiLeaks claim.
Rich was shot and killed on July 10 in Washington D.C.
Almost immediately after his death, conspiracy theories emerged. The theories seem to have been most commonly circulated on right-leaning message boards.
These theories and their many variations all allege Rich's death was related to politics, implying that the former DNC staffer was targeted because he held unflattering information about Hillary Clinton and could have been WikiLeaks' source for Clinton-related emails.
While D.C. police say Rich fell victim to an attempted robbery, the fact that no suspect has since been arrested has only fueled conspiracy theorists' belief that Rich's death was the result of a cover-up.
The Seth Rich conspiracy is not the first of it's kind, either. The suicide of former White House aide Vince Foster in 1993, for example, prompted conspiracists to theorize that Hillary and Bill Clinton had actually choreographed a murder to prevent Foster from revealing damaging information.
Police accounts of Foster's death contradict the conspiracy theories, however. Similarly, police accounts about Seth Rich's death contradict the current-day conspiracy theories.
The local station cited private investigator Rod Wheeler, who was reportedly hired for Rich's family by a third party, as its source.
Wheeler told Fox News,
My investigation up to this point shows there was some degree of email exchange between Seth Rich and WikiLeaks. I do believe that the answers to who murdered Seth Rich sits on his computer on a shelf at the DC police or FBI headquarters.
However, D.C. police told Fox 5 that it cannot confirm any of the claims Wheeler has made in regards to Rich's history of emails, a fact which was reported in the video below.
BREAKING: Private investigator says he's going to provide a report to @fox5dc showing all of #SethRich's communications with #Wikileaks. pic.twitter.com/OfHzRojgXL — gab.ai/jimmysllama (@jimmysllama) May 16, 2017
Rich's family has released a statement thoroughly denying the recent reports.
The statement, released by Bauman, reads,
We are a family who is committed to facts, not fake evidence that surfaces every few months to fill the void and distract law enforcement and the general public from finding Seth's murderers. The services of the private investigator who spoke to press was offered to the Rich family and paid for by a third party, and contractually was barred from speaking to press or anyone outside of law enforcement or the family unless explicitly authorized by the family.
Bauman confirmed the family accepted the services of the private investigator, but added that the terms of the services were breached, apparently to "push a timely political agenda."
He told Elite Daily,
The Rich family isn't wealthy and doesn't have the resources to mount their own investigation. When approached by a seemingly wealthy Good Samaritan, they were obliged to take the help under the condition that the PI would not speak to press, only law enforcement and the family. The PI violated that agreement today in order to push a timely political agenda. It's a sad and cowardly act to run a murder victims name through the mud like this.
Back in August, Rich's family spokesman addressed the conspiracy theory, saying,
Some are attempting to politicize this horrible tragedy, and in their attempts to do so, are actually causing more harm than good and impeding on the ability for law enforcement to properly do their job.
Rich was the voter expansion date director for the DNC. He was 27.