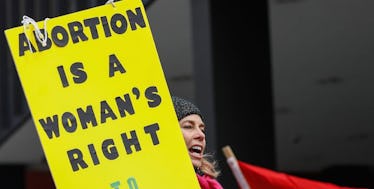 Congress Just Made It Nearly Impossible For 7 Million US Women To Get Abortions
REUTERS
The House of Representatives voted on Tuesday to pass a bill permanently barring federal funding to be used for abortions.
HR 7, called the "No Taxpayer Funding for Abortion and Abortion Insurance Full Disclosure Act," makes the Hyde Amendment permanent.
The Hyde Amendment says that no money from the government can be used for abortions except in the cases of rape, incest and a medical threat to the mother's life.
More specifically, this means that women who get health insurance through the government —low-income women on Medicaid as well as women in the military, federal prisons and the Peace Corps — cannot have abortions paid for by their insurance.
Women of reproductive age on Medicaid amount to about 7 million, according to the Guttmacher Institute.
Because of the Medicaid piece, the Hyde Amendment pretty directly targets low-income women and disproportionately women of color.
It was originally proposed as a method to stop abortions three years after the Supreme Court ruled that abortions are legal in Roe v Wade.
The Hyde Amendment had its 40th anniversary in 2016. It was introduced by Henry Hyde, a Republican congressman. In 1977, Hyde said,
I certainly would like to prevent, if I could legally, anybody having an abortion, a rich woman, a middle-class woman or a poor woman […] Unfortunately, the only vehicle available is the (Medicaid) bill.
The Hyde Amendment had to be voted in by the Congress every single year when voting on budgets. This new HR 7 act makes it permanent, so there is no opportunity every year to get rid of it.
Dr. Willie Parker, board chair of Physicians for Reproductive Health, said in a statement on Tuesday,
The House of Representatives' vote today on H.R. 7 was a vote to punish women who seek abortions on the basis of how much money they earn, where they live, and how they are insured. [...] While this vote is not surprising, I am disappointed for my patients and their families.
Yamani Hernandez, executive director of the National Network of Abortion Funds, which provides money to women seeking abortions, added in her own statement on Tuesday,
By passing this bill on to the House, Congress has shown complete and utter disregard for the health and welfare of those seeking abortions, particularly those who cannot afford it.
Pro-choice advocates were on their way to getting rid of the Hyde Amendment. It was added as part of the Democratic platform this past summer with the campaign of Hillary Clinton.
Campaigns such as All* Above All have been working to undo Hyde. Last year, Democratic Representative Barbara Lee introduced the EACH Woman Act, which was supposed to undo the effects of Hyde.
Once Donald Trump won the election and Republicans had control of Congress, however, women's reproductive rights were put in peril.
This is just the latest attack on reproductive rights.
On Monday, Trump reinstated the so-called "Global Gag Rule" that barred federal funding for foreign aid organizations that provide information about abortion. Federal funding for foreign aid that provides abortion is already barred under the Helms Amendment.
Citations: NBC