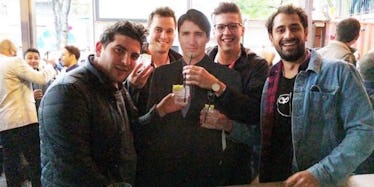 Cardboard Cutouts Of Justin Trudeau Just Got Banned In US By Selfish Canadians
Instagram
The South by Southwest arts festival in Texas is already one of the coolest events that happen all year.
Huge names in film, music and interactive media gather together to help one another foster creative and professional growth.
As if it wasn't already awesome enough, apparently this year's festival also featured life-sized paper replicas of Canadian prime minister and hunkalicious-daddy-extraordinaire, Justin Trudeau.
The cardboard cutouts made an appearance at the event after the Canadian embassy bought them in bulk last summer.
Despite their popularity at South by Southwest, Global Affairs Canada put a huge damper on all the fun.
According to The Independent, department spokesperson Michael O'Shaughnessy said of the Trudeau replicas,
We are aware of instances where our missions in the United States had decided to purchase and use these cut-outs. The missions have been asked to no longer use these for their events.
People at the festival certainly seemed to get a kick out of them, though.
Stephen Taren, owner of the company that supplied the cardboard cutouts, said his firm had sold between just 10 and 20 replicas of Trudeau since he was first elected.
While I sit here and try to mop up my drool at the thought of having a permanent stand-in of Justin Trudeau in my apartment, others weren't exactly swooning over the cutouts.
John Brassard, conservative MP for Barrie-Innisfil in Ontario, told CBC,
A life-size, two-dimensional cutout is probably a perfect metaphor for everything that Justin Trudeau represents. You've got the shallow facade, and yet there's very little in the way of depth or substance there.
Ouch.
How can you hate on that face though?!
All in all, it really doesn't seem to be clear why Canada isn't cool with the the embassy promoting these cardboard cutouts of the PM.
Perhaps the undeniable thirst for their leader is simply too much for them to handle.
Well, in the meantime, if anyone feels like getting me a present, this replica of Justin Trudeau on HistoricalCutouts.com is only $60.
Citations: Canada orders diplomats to stop using Justin Trudeau cardboard cut-outs (The Independent), Cut out the cardboard cut-outs of Trudeau, Canadian diplomats told (CBC News), H10124 Justin Trudeau (HistoricalCutouts.com)