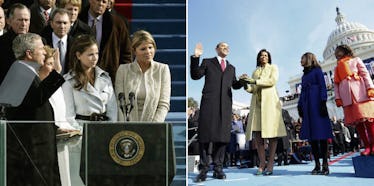 George Bush's Daughters Wrote The Sweetest Goodbye Letter To The Obama Girls
REUTERS
Before there was Sasha and Malia, there was Barbara and Jenna.
The Bush daughters, who spent the first eight years of the new millennium under the perhaps-too-watchful eye of the American public, penned an open letter to the Obama daughters as the Obama family prepares to leave the White House.
It's undoubtedly a strange and almost traumatic experience to go from current to former First Family.
You essentially get kicked out of your home of nearly a decade and lose all your fun toys (the White House bowling alley!) and perks.
So Barbara Bush and Jenna Bush Hager reached out to help guide Sasha and Malia through what comes next.
They wrote about greeting the Obama sisters at the White House eight years ago, saying,
When you slid down the banister of the solarium, just as we had done as 8-year-olds and again as 20-year-olds chasing our youth, your joy and laughter were contagious.
The Obamas have been saying the Bush family was exceedingly kind and helpful as they made the peaceful transition of power.
It is this grace that the Obamas are using as an example to help Donald Trump and his family make the transition, despite obvious tensions.
Barbara and Jenna wrote that, like the rest of America, we've watched Sasha and Malia grow up "with grace and ease," all the while sticking together.
The Bush sisters wrote,
Now you are about to join another rarified club, one of former First Children—a position you didn't seek and one with no guidelines. But you have so much to look forward to.
They advised Sasha and Malia to hold onto the people who helped make their time at the White House. They explained,
We know it wasn't always easy—the two of you and the two of us were teenagers trailed by men in backpacks—but they put their lives on hold for us.
Barbara and Jenna even joked about the media's spotlight on them in their college years,
Enjoy college. As most of the world knows, we did. And you won't have the weight of the world on your young shoulders anymore. Explore your passions. Learn who you are. Make mistakes—you are allowed to.
The Bush sisters recommended the Obama sisters take what they learned in the White House with them and continue to pay attention to other people and their perspectives.
Barbara and Jenna ended their letter by acknowledging the "unbelievable pressure" they had growing up. They concluded,
You stood by as your precious parents were reduced to headlines. Your parents, who put you first and who not only showed you but gave you the world. As always, they will be rooting for you as you begin your next chapter. And so will we.
The Obamas will be moving out of the White House next week.
Citations: The Bush Sisters Wrote the Obama Girls A Letter (Time)