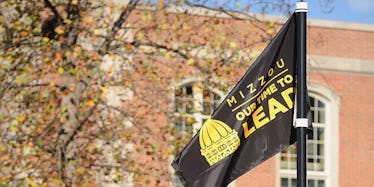 Someone Vandalized The Black Culture Center Sign On Mizzou's Campus
Getty Images
The University of Missouri has been steeped in tension for the past few days after protests led president Tim Wolfe and chancellor R. Bowen Loftin to resign.
Stories are abounding about incidents of racially-motivated attacks on campus, including unconfirmed rumors of KKK presence.
Two college students were also arrested for allegedly posting threats on Yik Yak.
Early Thursday morning, the sign for The Gaines/Oldham Black Culture Center was vandalized.
The word "black" was covered in what looks like spray paint.
A freshman told student newspaper The Maneater last night he heard someone yell,
Black motherf*ckers, you're not welcome here.
Seeing a girl running away from the noise, the freshman ran away as well and reported afterward the University of Missouri Police Department did not answer the phone when he called.
The Legion of Black Collegians posted a picture of the sign and a statement on Twitter.
On Tuesday night at Mizzou, following the threats on Yik Yak, student representatives walked arm in arm to the Black Student Union to protect each other from possible attacks, Fusion reports.
Some teachers canceled classes in light of students' fears.
Given the vandalism, it doesn't seem like the tension or fear will dissipate anytime soon.
Citations: Black Culture Center sign vandalized (The Maneater), University of Missouri students report threats; police quell KKK rumors (CNN), 2 suspects arrested in social media threats at Missouri campuses (USA TODAY), University of Missouri campus under threat from anonymous social media message (Fusion)