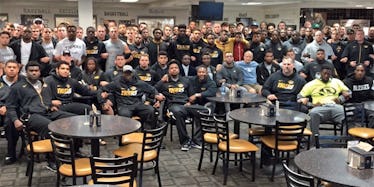 University Of Missouri President Resigns Amid Protests From Football Team
The University of Missouri system president, Tim Wolfe, resigned on Monday following protests over his response to race-related incidents on the school's campus.
Wolfe's resignation comes less than 48 hours after the black players of Mizzou's football team pledged to stop playing football in direct protest of the president, a public declaration launching the race relations of the Columbia-based campus into the national sphere.
We're black. Black is powerful. Our struggle may look different, but we are all #ConcernedStudent1950 pic.twitter.com/obCjSWCFVY — HeMadeAKing (@1Sherrils_2MIZZ) November 8, 2015
While announcing his resignation, Wolfe said,
I take full responsibility for the actions that have occurred. I have asked everybody to use my resignation to heal. Let's focus in changing what we can change today and in the future, not what we can't change in the past.
The resignation follows a string of incidents involving alleged racial abuse at the university over the past couple of months.
The sequence of those events and a series of responses from the president, deemed unsubstantial by his biggest critics, were detailed comprehensively by the Missourian.
That sequence prompted a slew of demonstrations on campus, including a hunger strike by a graduate student and, eventually, the protest of Mizzou's players.
On Sunday, Missouri head coach Gary Pinkel compounded the pressure on Wolfe after tweeting a public show of support for the protesting players, along with a picture of his whole team.
The Mizzou Family stands as one. We are united. We are behind our players. #ConcernedStudent1950 GP pic.twitter.com/fMHbPPTTKl — Coach Gary Pinkel (@GaryPinkel) November 8, 2015
Less than 24 hours later, Wolfe is out as president of the university.