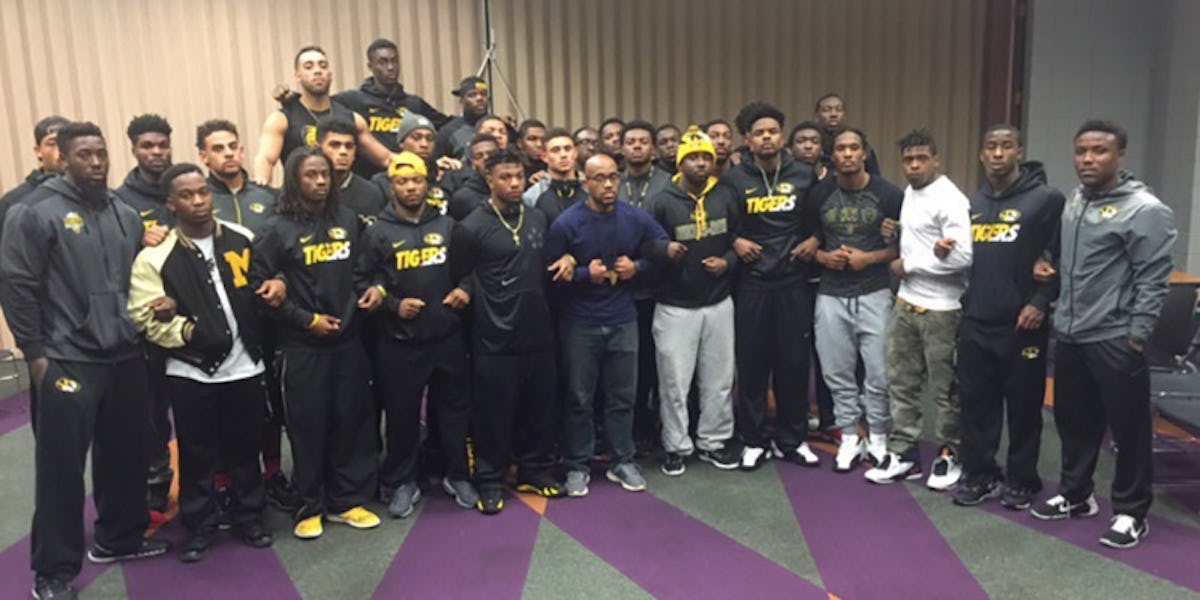 Mizzou Football Players Pledge Strike To Protest Campus Race Relations
African-American players on the University of Missouri football team made a public pledge on Saturday to quit playing until their school's president is removed.
The pledge follows a series of incidents at the university that have called the campus' race relations into question.
We're black. Black is powerful. Our struggle may look different, but we are all #ConcernedStudent1950 pic.twitter.com/obCjSWCFVY — HeMadeAKing (@1Sherrils_2MIZZ) November 8, 2015
The players have joined in solidarity with other black students on campus who have been vocal in their dissatisfaction at what they feel is a lack of substantial action from Tim Wolfe, the university and system president.
The Missourian composed a timeline of those events, beginning with a student allegedly on the receiving end of shouts of racial slurs from a passenger in a pickup truck while the student was walking on campus.
Also worth mentioning is the drawing of a swastika in human feces at a residence hall on campus, The Washington Post reports.
Most notable among the protests of minority students is the hunger strike of graduate student Jonathan Butler, which began on the morning of November 2 and promises to endure until "either Tim Wolfe is removed from office or my internal organs fail and my life is lost," he wrote to the university's System Board of Directors.
Butler's demonstration has sparked the discussion under #MizzouHungerStrike on social media.
Now, Butler will count the black players of the Missouri football team among his supporters. And the players, in turn, have the backing of their coaches, according to Mizzou cornerback John Gibson.
@EdgeofSports has nothing to do with our coaches. Our coaches are 100% behind us. Including the white ones — John Gibson III (@thatgibsonkid) November 8, 2015
Missouri's athletic department, meanwhile, released a statement through spokesperson Chad Moeller, who sent the statement to Mizzou beat writer David Morrison.
Statement from MU spokesman Chad Moller: pic.twitter.com/vzClRe5b8B — David Morrison (@DavidCMorrison) November 8, 2015
Mizzou's next scheduled opponent is BYU, set to visit Missouri on Saturday, November 14. Whether or not the game will be played seems far from a certainty at this point.