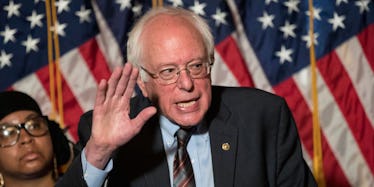 Bernie Sanders Responds To Congressional Shooting: "I Am Sickened"
Drew Angerer/Getty Images
The alleged perpetrator of a shooting at a baseball practice that involved Republican members of Congress reportedly volunteered on Senator Bernie Sanders' presidential campaign.
This prompted the Vermont senator to draft a statement, which Sanders delivered on the Senate floor.
Sanders said,
I have just been informed that the alleged shooter at the Republican baseball practice this morning is someone who apparently volunteered on my presidential campaign. I am sickened by this despicable act. Let me be as clear as I can be. Violence of any kind is unacceptable in our society and I condemn this action in the strongest possible terms. Real change can only come about through nonviolent action, and anything else runs counter to our most deeply held American values.
Sanders also offered his "hopes and prayers" to those who were hurt in the shooting, and thanked the Capitol Police for "their heroic actions to prevent further harm."
Rep. Steve Scalise of Louisiana, the House Majority Whip, was among those shot. He's reportedly expected to make a full recovery.
Two Capitol Police officers were also shot, and the shooter is reportedly dead.
Capitol Police officers who were on the scene are being widely hailed as heroes following the shooting.
In a statement, President Donald Trump said,
Many lives would have been lost if not for the heroic actions of the two Capitol Police officers who took down the gunman despite sustaining gunshot wounds during a very, very brutal assault. Melania and I are grateful for their heroism and praying for the swift recovery of all victims.
Tim Slater, the FBI agent overseeing the investigation, echoed these sentiments, and said he's sure the presence of the two officers "made a significant difference."
Senator Rand Paul, who was at the baseball practice, said they helped prevent a "massacre."
According to Capitol Police Chief Matthew Verderosa, the two wounded officers are in good condition and expected to make a quick recovery.