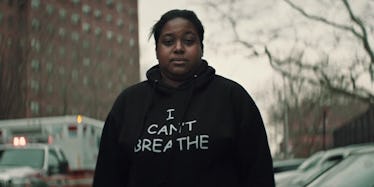 Bernie Sanders Featured Eric Garner's Daughter In This Moving New Ad
The Bernie Sanders campaign released an ad on Thursday featuring Erica Garner, the daughter of Eric Garner, an unarmed man who was killed by police in a chokehold in July 2014.
In the video, Erica Garner speaks about having to tell her 6-year-old daughter that racial issues and activism still exist.
Describing what she tells her daughter, she says,
This is what mommy is, I'm an activist and the same thing Martin Luther King was -- he fought for our rights -- is the same thing I'm doing, in honor of her pop-pop.
Erica wears a sweatshirt with the phrase "I can't breathe" -- the last thing her father said as he was dying.
In the ad, she says,
I'm behind anyone who's gonna listen and speak up for us, and I think we need to believe in a leader like Bernie Sanders.
The video includes clips from Sanders' speeches on racial injustice and the need for reform.
Garner endorsed Sanders last month for his stances on racial justice, but on Thursday Hillary Clinton received an endorsement from the Congressional Black Caucus Political Action Committee.
Gregory Meeks, chair of the CBC PAC, said,
One of the individuals that has been with us time and time again has been Hillary Clinton. She has been, her whole career, an individual that has been fighting for issues that are important to the African-American community.
Clinton also has endorsements from Sybrina Fulton, mother of Trayvon Martin, and Lucia K. McBath, mother of Jordan Davis.
Check out the Sanders ad in full below.
Citations: Bernie Sanders just released a powerful new ad featuring the daughter of Eric Garner (Mashable), http://www.cnn.com/2016/02/11/politics/james-clyburn-congressional-black-caucus-endorsement/index.html?eref=rss_politics (CNN)