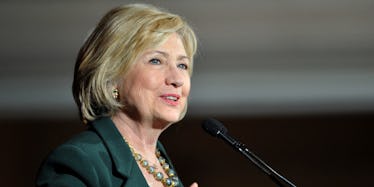 Hillary Clinton Just Won The Support Of A Major LGBTQ-Rights Organization
Getty Images
The Human Rights Campaign announced on Tuesday it is endorsing Hillary Clinton for president -- and it's not just because they both use the initials "HRC."
The HRC (campaign, not Clinton) is the biggest LGBT rights organization in America.
It's the group behind those red and pink marriage equality Facebook profile pictures that everyone was using for a while.
The HRC cited Clinton's support for LGBT rights and pledges to support LGBT rights and equality should she be elected president.
This is one of many endorsements Clinton has received from a progressive group. She's been making more personal politics -- for LGBT and women's rights as well as for racial equality and gun control -- a central point of her campaign.
Planned Parenthood endorsed Clinton -- the first time it has ever endorsed a primary candidate -- as did NARAL Pro-Choice America.
Clinton is the only Democratic candidate actively speaking up on women's healthcare and has called for an end to the Hyde Amendment, which keeps federal funds from being used for abortions except in extreme cases.
Clinton has also received endorsements from gun control advocates, including the  Brady Campaign to Prevent Gun Violence, who are against Bernie Sanders' weak record on gun control, and former congresswoman Gabby Giffords.
Sybrina Fulton, mother of Trayvon Martin, and Lucia McBath, mother of Jordan Davis, announced their endorsements for Clinton this month, citing her strong opinions on gun control.
Clinton also has an outsized number of endorsements from fellow politicians, far exceeding those supporting Sanders or Martin O'Malley, according to FiveThirtyEight. These endorsements include Amy Schumer's cousin Senator Chuck Schumer, Senator Cory Booker, Senator Kirsten Gillibrand and Senator Claire McCaskill.
Meanwhile, Katy Perry, Lena Dunham and former secretary of state Madeleine Albright have hopped on the campaign trail in support of Clinton.
For his part, Sanders has endorsements from racial equality activist and journalist Shaun King and The Nation, a progressive publication, along with the continued support of Killer Mike.
Otherwise, Sanders and O'Malley's list of endorsements are rather lacking in comparison to Clinton's growing list.