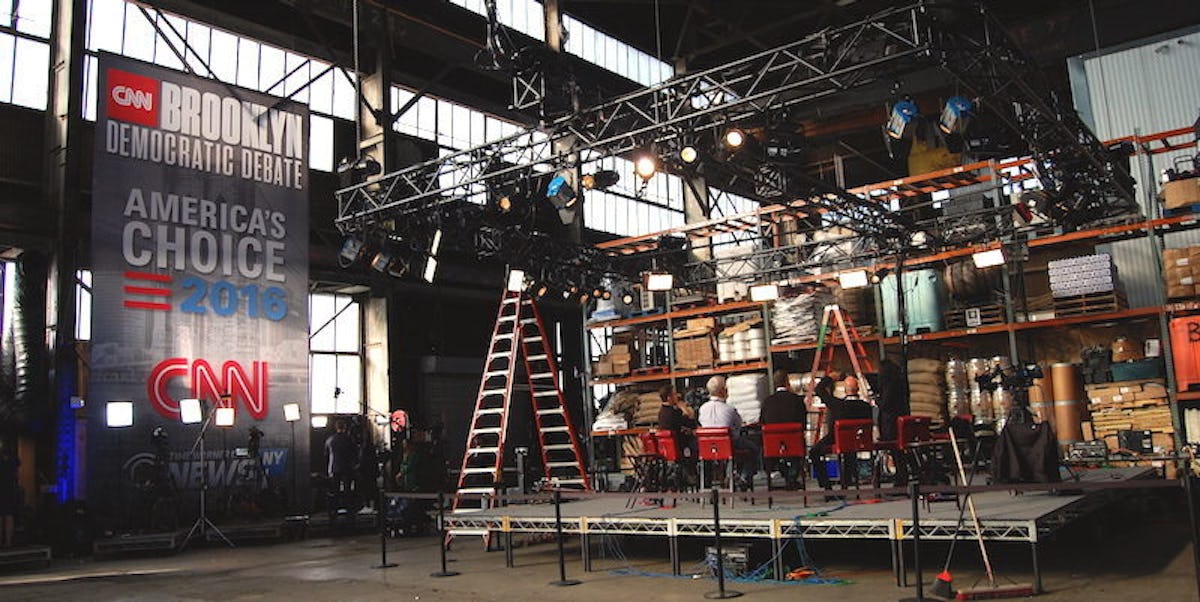 What Bernie And Hillary Should Have Talked About At The Democratic Debate
Many important topics were discussed at the CNN Democratic Debate on Thursday night in Brooklyn, including Israel, global warming and the future of the Democratic party.
But that wasn't enough for those who wanted to hear deeper discussions from Hillary Clinton and Bernie Sanders on certain topics.
For example, I'm still waiting for abortion to be fully discussed on a Democratic debate stage. Each time a debate happens, people tweet #AskAboutAbortion and wait for a question to come in. Both Bernie and Hillary's accounts tweeted it during the debate last night.
Clinton actually brought it up while talking about another topic. She said:
We've had eight debates before, this is our ninth. We've not had one question about a woman's right to make her own decisions about reproductive health care, not one question. And, in the meantime, we have states, governors, doing everything they can to restrict women's rights. We have a presidential candidate by the name of Donald Trump saying that women should be punished. And we are never asked about this.
CNN host Dana Bash asked Sanders to respond to Clinton's comment, and then quickly pivoted to another topic.
Sanders and Clinton generally agree on abortion -- just as they generally agree on most topics. But without a debate discussion on this, I can't tell how exactly their opinions differ and what their plans are to combat the attacks on women's health.
The supposed point of debates is for the public to better understand the candidates and see their differences. But when topics aren't discussed, we miss out on that. I asked people in the CNN spin room after the Democratic debate which topics they wished had been discussed.
Newark Mayor Ras Baraka wanted more specifics on poverty.
How do you get these people out of poverty? It's not just about only increasing the minimum wage. It's also about what you do about making sure rent is affordable, making sure people can own their homes, that their homes are affordable, dealing with foreclosures and all those other kinds of issues that we deal with in the city. Those issues become much more complex and the differences that they have are very, very nuanced, so we didn't really get an opportunity to hear them get deep into those kinds of things.
Linda Sarsour, an activist supporting Sanders, wanted more on immigration and gentrification.
There are many immigrants in the state of New York, and I think they would've wanted to hear more about their plans for comprehensive immigration reform. I would've also liked to hear about affordable housing and affordability, as many people in New York City [would've liked]. Many of us who are born and raised here are being priced out of our own communities. It would've been good to hear the candidates' response to gentrification and affordability.
Erika Andiola, Sanders' National Latino Press Secretary, also wanted more on immigration -- as it relates to Central and South America.
[New York is] where the Statue of Liberty's at, and we had absolutely no talk about immigration. We also didn't really mention anything on foreign policy when it comes to Latin America and Central America. We do have a growing number of Central Americans in New York. I wish that would have been brought up and really had a discussion on the differences between both, which is actually a pretty big difference.
Randi Weingarten, president of the American Federation of Teachers and a Clinton supporter, was disappointed in the lack of questions on education.
There was not a question raised on education. I mean, the only discussion on education was something that [Clinton] actually raised in terms of talking about early childhood education, talking about making sure that schools have the resources that they need, how you nurture, how you ensure that you support teachers, you recruit, you retain them... [Clinton] said, 'Wait a second, we've had eight debates and you haven't asked any questions about women either!' So I think there's a frustration that the issues that people care about, there weren't questions about those issues.
Hakeem Jeffries, a member of the House of Representatives representing Brooklyn and Queens, wanted discussions on police reform.
There was some discussion of criminal justice reform, but not a lot about police reform. It's been obvious over the last 18 months or so that there are significant challenges that we confront in strengthening the relationship between the police and community. There wasn't a lot of discussion on that issue, and hopefully as we move forward, both Secretary Clinton and Senator Sanders -- both of whom I think would be far better than any of the alternatives on the Republican side -- will have an opportunity to speak in greater detail on these issues.
Echoing Jeffries, Luis Miranda, Communications Director of the Democratic National Committee, said the Democratic candidates are better than the Republicans, but he wanted that emphasized.
I wish they had talked about just how out of touch the Republican candidates are. But I think that because they highlighted that our two candidates are substantive and know the issues so well, and even when they disagree, they clearly understand what they're talking about. At least there was a strong contrast with what we've seen from the Republicans where they're not really arguing on substance, they're not being serious on so many issues. They clearly don't understand what they're talking about.