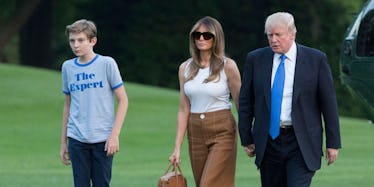 Barron Trump Wore A T-Shirt During White House Move But It's Already Sold Out
Chris Kleponis-Pool/Getty Images
When Melania and Barron Trump stepped off Marine Force One, officially moving into the White House this past Sunday, Barron was dressed -- well, like a middle schooler.
Sporting a J.Crew t-shirt with "The Expert" emblazoned across the front and playing with a fidget spinner (because duh), he looked like a typical 11-year-old. But people took to Twitter to ponder the ~deeper meaning~ behind his t-shirt.
Some were convinced Barron's just trolling his dad:
Others think he's the smartest Trump in the family:
While others focused on the other Trump sons:
Any way you cut it, the t-shirt was a hit across the political spectrum.
And some outlets, such as Fox News, the Washington Examiner and, uh, Sarah Palin's website, have reported that the t-shirt sold out mere hours after he was spotted wearing it.
But that's just not true.
Business Insider reports,
J. Crew told Business Insider that its "The Expert" t-shirt was from its Spring 2015 collection. It was not re-released yesterday and would have 'sold out' long before the president's son wore the shirt.
The Trump family has come under fire for keeping Barron in school in New York through the end of the school year and spending weekends at Trump properties, both at a cost to taxpayers. Melania was also criticized for wearing a $51,500 Dolce & Gabbana jacket in Italy.
And reports on Barron's $30 t-shirt selling out in hours seems to follow a trend of the First Family attempting to be seen in a more relatable light. Ivanka Trump, for instance, was recently spotted wearing a $35 dress from Target.
So while a two-year-old t-shirt from a ready-to-wear store definitely makes Barron contender for Most Relatable Trump, he still has a lot of catching up to do when it comes to being an accessible fashion icon. Like, oh, I don't know, fellow J.Crew enthusiast Michelle Obama.