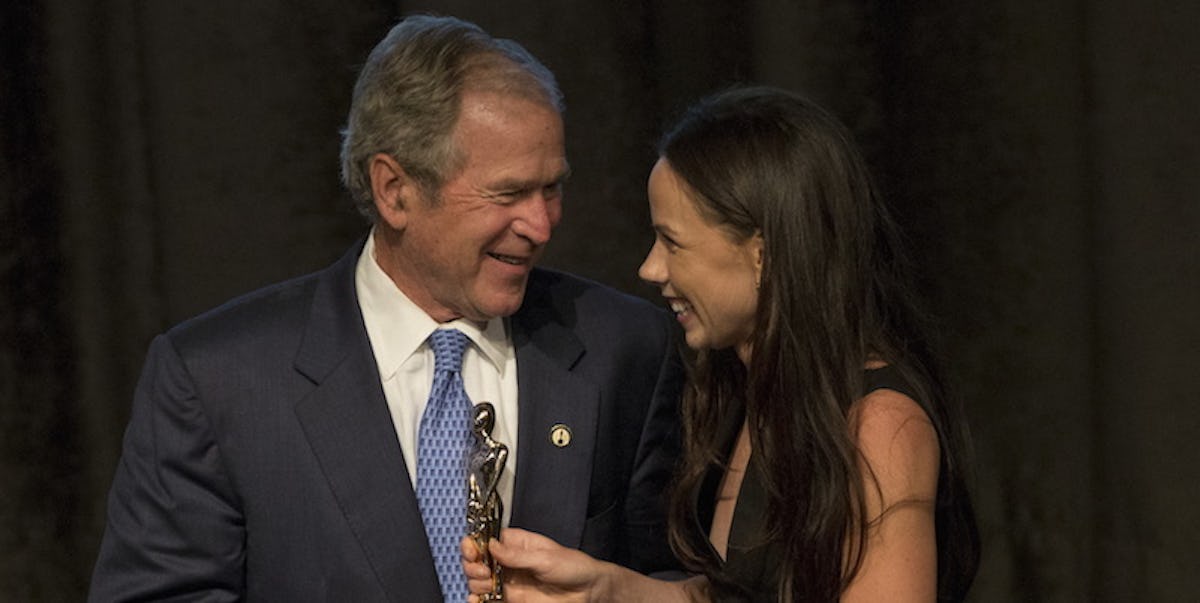 Barbara Bush Accidentally Revealed She's Pro-Hillary In Now-Edited Instagram
REUTERS
It's no big secret that many members of the Bush family aren't the biggest fans of Donald Trump.
And based on some Instagram posts from Paris, it appears Barbara Bush -- daughter of former president George W. Bush, a Republican -- might actually be voting for Democratic nominee Hillary Clinton this fall.
This weekend, there was a fundraiser for the Clinton campaign in Paris during the city's fashion week.
Attendees at the fundraiser included Clinton's longtime aide Huma Abedin, Vogue editor-in-chief Anna Wintour, fashion icon Lauren Santo Domingo and actress Dakota Fanning.
Also in attendance at the fundraiser? Barbara Bush.
Writer Derek Blasberg shared a selfie of himself on Instagram that included Domingo, Abedin, Fanning and Bush.
You'll notice now the caption reads "AMERICANS IN PARIS." However, this is an edited caption.
According to Politico, the caption originally included the hashtag #werewithher, alluding to Clinton's campaign slogan #ImWithHer.
This is the second time a member of the Bush family has been shadily called out on social media for possibly leaning towards Clinton.
Last month, Kathleen Hartington Kennedy Townsend posted on Facebook that former president George H. W. Bush was planning to vote for Clinton.
A spokesperson for the former president said in a statement,
The vote President Bush will cast as a private citizen in some 50 days will be just that: a private vote cast in some 50 days. He is not commenting on the presidential race in the interim.
Given that Trump continuously insulted Jeb Bush throughout the primary stages of the election (in addition to every other offense Trump has made), it's no surprise the Bush family would vote against him.
The other Barbara Bush -- wife of George H. W. -- said in February she doesn't "know how women can vote for someone who said what he said about Megyn Kelly."
In the spring, both Jenna Bush (the younger Bush daughter) and her mother, Laura, hinted at their own support for Clinton as someone who supports women and is a more capable choice.
But, like H. W.'s spokesperson said, everyone can privately vote for whoever they want to vote for. And you should  absolutely cast your vote in November for whoever you think would be the best president.
Elite Daily and 50 other media organizations partnered with Rock The Vote to register 100,000 women to vote. You can register right here (and men can use it too) :
Citations: New York Magazine, Politico