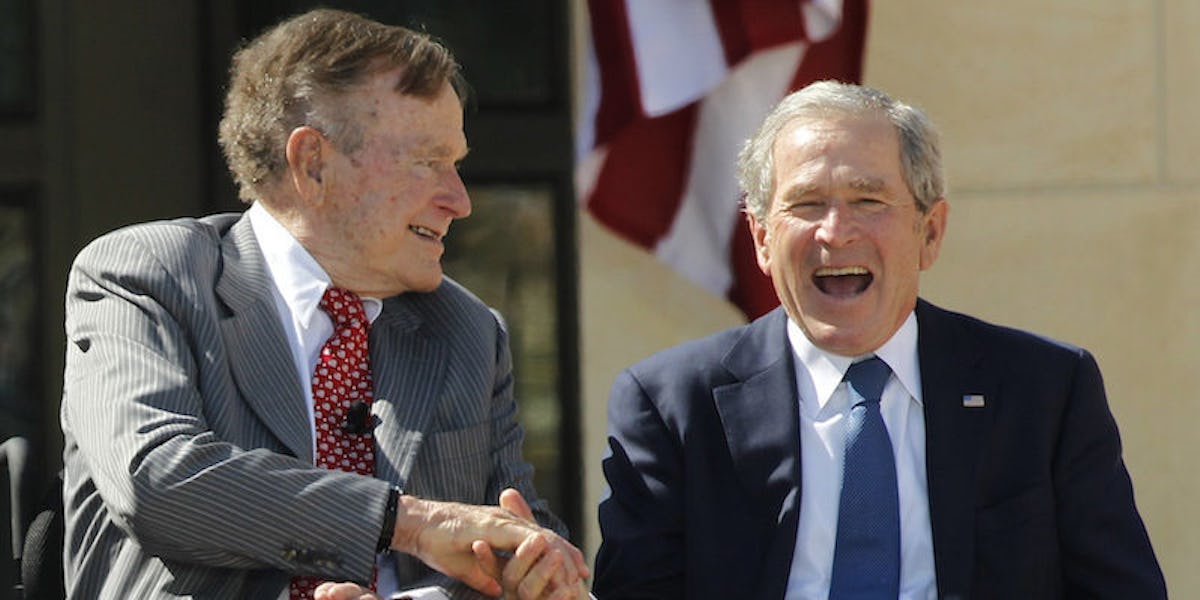 Bush Says He's Voting For Clinton, And Now Everyone's Trolling Trump So Hard
REUTERS
Former President George H. W. Bush, a Republican, is allegedly planning to vote for Democratic nominee Hillary Clinton in the upcoming presidential election.
Another member of a political dynasty, Kathleen Hartington Kennedy Townsend, former lieutenant governor of Maryland and daughter of Robert F. Kennedy, revealed the elder Bush's voting plans in a Facebook post.
(Just a quick reminder here that we're chatting about George H. W. Bush — the older one who was president from '89-'93, not George W. Bush, his son who was president in the 2000s.)
Townsend posted a photo of her shaking hands with Bush. She captioned it,
The President told me he's voting for Hillary!!
She told Politico that she met with Bush in Maine on Monday, where he told her his voting plans.
As for the former president himself, he's staying mum to the press. A spokesperson said,
The vote President Bush will cast as a private citizen in some 50 days will be just that: a private vote cast in some 50 days. He is not commenting on the presidential race in the interim.
The Bush fam is not the biggest fan of Republican nominee Donald Trump, perhaps due to the fact that he's not a loyal Republican, or that he bullied Jeb! "Please Clap" Bush out of the race, or that he's a racist demagogue tearing the Republican party apart. Users' choice!
And H. W. is not the first Bush to be rumored to be voting for Clinton in the election. Former First Lady Laura Bush, wife of W., hinted at the Women in the World summit in April that she may be leaning Clinton.
At the same event, Jenna Bush, daughter of W. and Laura, said the election made her fearful for her new daughter. She said,
You want smart, capable people to run but when it turns into this…
Barbara Bush, H. W.'s wife, said in February,
I mean, unbelievable. I don't know how women can vote for someone who said what he said about Megyn Kelly. It's terrible.
The Bushes are far from the first Republicans to decide to not vote for Trump in this election. Party leaders including Mitt Romney, Lindsey Graham, John Kasich, Ross Douthat, Glenn Beck and Erick Erickson have all said they would not support Trump.
Some people on Twitter seemed to enjoy this news:
Citations: Politico, Telegraph, The Atlantic