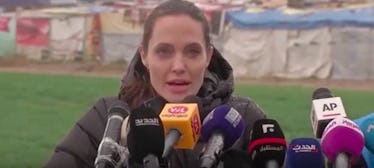 Angelina Jolie Has A Message About Refugees That We All Need To Hear
YouTube
March 15 marked five years since the war in Syria began. So far, it's estimated as many as 470,000 have been killed as a consequence of this brutal conflict. The war's displaced around 11 million Syrians, including around 4.8 million refugees.
The world is currently witnessing the worst refugee crisis since World War II.
Unfortunately, it does not appear as though the fighting in Syria will stop soon, and more Syrians continue to lose their homes and flee to surrounding countries and beyond (particularly Europe).
In April 2012, actress and activist Angelina Jolie Pitt was appointed as Special Envoy of the United Nations High Commissioner for Refugees (the UN refugee agency). The global refugee crisis is definitely something she cares deeply about.
On Tuesday, Jolie called on world leaders to come together and make a more concerted effort to address the crisis.
Speaking from a refugee camp in the Bekaa Valley in Lebanon, Jolie stated,
On this day, the fifth anniversary of the Syria conflict, that is where I'd hoped to be -- in Syria, helping the UNHCR with returns and watching families I have come to know to be able to go home. It is tragic and shameful that we seem still so far from that point... We cannot discuss this as if it were a problem confined to the situations of tens of thousands of refugees in Europe. We cannot improve this reality by partial responses or by responding to some crises and not others, or by helping some refugees and not others, or by excluding Afghan refugees among others or by making a distinction between refugees on the grounds of religion.
Watch her statement in the video below.
Following the terror attacks in Paris and San Bernardino, among other places, fear of refugees from majority-Muslim countries began to spread across much of the Western world. These sentiments even led GOP presidential candidate Donald Trump to suggest banning all Muslim immigration to the US.
Jolie, among others, clearly finds this unacceptable and shameful. She definitely sent a very powerful message when she spoke from Lebanon on Tuesday.
So far this year, nearly 450 refugees drowned in the Mediterranean while attempting to reach Europe.
The UNHCR reports over one million refugees and migrants fled to Europe by land and sea in 2015 -- 3,771 people drowned or went missing attempting to make the perilous journey.
As Jolie aptly highlighted, ignoring this crisis will not make it go away.
Citations: Death Toll From War in Syria Now 470,000, Group Finds (The New York Times), Syria conflict at five years (UNHCR), Angelina Jolie Pitt (UNHCR), Angelina Jolie says the plight of Syrian refugees is 'shameful' and 'tragic' (Independent), More than one million refugees travel to Greece since 2015 (UNHCR)