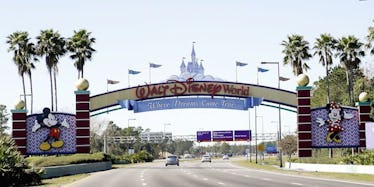 These Pictures Of Disney World After Hurricane Irma Damage Are Making Us Wince
AP/REX/Shutterstock
There might be some real-life magic at Disney World, after all. As Florida reels from the catastrophic damage of Hurricane Irma, the Magic Kingdom and its friends managed to ride out the storm relatively unscathed. Photos of Disney World after Hurricane Irma show minimal damage – though seeing literally any destruction happen to The Most Magical Place on Earth is enough to prompt so many emotions.
On Friday, Sept. 8, shortly before Irma was expected to crash down in the Florida Keys, officials at Disney World announced that they would be temporarily locking up the castle gates. By that point, Irma was expected to drop from a Category 5 to a Category 4 storm, but was still packing fierce, sustained winds of 130 mph. Disney World is located in Orlando, only 60 miles from the Florida coast.
After making landfall in the Florida Keys on the morning of Sept. 10, Irma blew into Disney World's 25,000 acres of land on Sunday evening, hitting the park with 58 mph winds, according to The National Weather Service.
The 25,000-acre theme park, which has been open since 1971, had only ever shut down four times in its entire history, according to USA Today. Past closures were due to Hurricane Floyd in 1999, Hurricane Frances in 2004, Hurricane Jeanne in 2004, and Hurricane Matthew in 2016.
Now, if that wasn't enough of a crazy record-breaking situation, Irma forced Disney World to stay closed from Saturday evening through Tuesday, Sept. 12 – marking the first time ever that the park was shut down for two consecutive days.
The Twitterverse was having legit fears and feelings about all of this.
Thankfully, Disney World, which includes two water parks, four theme parks, and 36 hotels, remained relatively unscathed. The area was hit by heavy rain and strong wind, knocking over trees and causing leaks, but the buildings didn't lose power.
Universal Studios told USA Today in a statement on Sept. 11, that they "saw relatively minor damage overnight involving fences, trees, signage and building facades." Meanwhile, SeaWorld Orlando was also spared any significant losses. All animals were safe and park teams "are still assessing" the extent of Irma's impact. The theme parks are scheduled to reopen Sept. 12, but the water parks will remain closed. Mickey's Not-So-Scary Halloween Party, however, has also been canceled for the time being – which sounds like it would have been so delightful, so I am very much hoping they reschedule that.
Pictures from the parks show light damage – and give an almost once-in-a-lifetime glimpse at what Disney World actually looks like with zero visitors.
That actually might be, partially, because of all the preparations Disney World employees made in order to ensure structures stayed safe and sound.
In what is, admittedly, a series of very un-magical, practical pictures, you can see everything that went into keeping structures intact.
Picnic tables were turned upside down, sandbags were placed in front of shop doorways, and banners were pulled down from all the sites. It's a pretty dismal, eerie peek into Disney World without the bells and whistles – but major props to the employees for all the work that was put in.
Hopefully, the damage is minor enough that it can be fixed up soon.  Nearly 10 million people visited Universal Studios last year, according to CNN, and more than 20 million (!!) people visited the Magic Kingdom alone in 2016. The resort also has 73,000 employees. That's a whole lot of people who will be more than eager to see the theme park spring back to its former glory.
On a silver linings note, Disney characters *in costume* hung out with bored kids staying at the hotels.
The characters played video games, drew, and wandered around interacting with guests. It made for quite possibly some of the most adorable pictures ever.
No, seriously, Lilo coloring with a little girl is the ray of sunshine everyone needs right now.
Can't get enough of those? Here's a few more. You're welcome.
I'm now anxiously awaiting the return of Disney World in all its splendor, plus the exact date for when we can all hit up Mickey's Not-So-Scary Halloween Party.