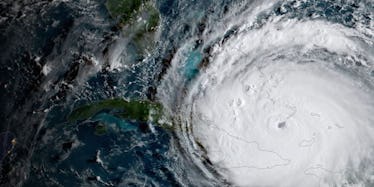 Hurricane Irma Hits Florida Keys As A Category 4 Storm, And It's Wreaking Havoc
Handout / Getty Images
Floridians continue to brace themselves for severe weather as Hurricane Irma hits the Florida Keys early morning on Sunday, Sept. 10. The Category 4 storm has unleashed maximum sustained winds of about 130 mph, according to the National Hurricane Center, which also claimed that southwestern coastal cities could see walls of water reaching close to 15 feet. Perhaps just as problematic as these conditions are the possible storm surges.
"This is a life-threatening situation," the National Hurricane Center said, according to CNN. "Near the coast, the surge will be accompanied by large and destructive waves."
Though residents in the Florida Keys were given instructions to evacuate, some decided to stay in their homes rather than seek shelter. Federal Emergency Management Agency Administrator (FEMA) Brock Long told CNN, "The message has been clear: The Keys are going to be impacted. There is no safe area within the Keys. And you put your life in your own hands by not evacuating."
Even President Donald Trump suggested evacuating during his weekly address on Sept. 8, saying that the storm has "absolutely historic destructive potential." He said,
I ask everyone in the storm's path to be vigilant, and to heed all recommendations from government officials and law enforcement.
Likewise, Gov. Rick Scott took the same stance as the president while on CBS This Morning. He said,
Think about your life, think about your family's life. But five to 10 feet of storm surge in the southern part of the state — think about that. That's going to cover homes. We're not a high state. We don't have mountains in the state.
And the effects thus far have been fierce. Palm trees are snapping, winds are strong, rain is torrential, and nearly 1 million homes and business were left without power, according to ABC News.
But the Florida Keys is not the only area in the state that's feeling Irma's wrath.
Nearly the entire state has been placed under hurricane warning. As of 10:15 a.m. ET on Sunday, Sept. 10, three fatalities throughout the state were reported, ABC News further stated. A second landfall is also possible in southwest Florida later in the day on Sept. 10, The Washington Post stated.
As the storm continues, the effects are being documented on social media.
Needless to say, these conditions are catastrophic. Though many take to Twitter, Facebook, and other forms of social media to comment on the situation — and at times adding memes and hashtags like #Apocalypse2017 — it's quite frightening to reflect on all of the natural disasters that have occurred in such a short period of time. Our country just dealt with Hurricane Harvey's massive destruction before Irma unleashed her wrath. Then, Hurricane Jose posed a threat. But it's not only this trio of hurricanes that are cause for concern — there are wildfires in the U.S. and earthquakes in Mexico that have hit within a few days of one another that make these horrific incidents even more frightening. There is certainly no denying that climate change is in fact a real issue.
Even seemingly unaffected areas will feel some sort of aftermath of Irma. New York, Washington, D.C., Philadelphia, and other cities on the East Coast could experience cool weather and rainfall during the week of Sept. 10. Though cool weather a bit of rain are nothing compared to what some people are unfortunately experiencing during this tragic time.
Head to CNN for a live update about the storm and its whereabouts. If you're interested in making a donation to help victims of Hurricane Irma, here's how to do so (and steer clear of scams). Our thoughts and prayers go out to everyone who has been affected by the storm.