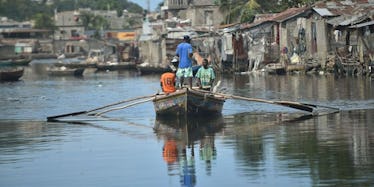 New York Is Far Out Of The Hurricane Irma Path, But May Still See Effects
HECTOR RETAMAL/AFP/Getty Images
Hurricane Irma is currently tearing its way through the Bahamas, and heading towards Florida with a terrifying, record-breaking wind speed of 185 mph. While the country's southeastern region braces for possible impact, northeastern cities can't help but question whether Hurricane Irma will hit New York and other coastal meccas along the way. Thankfully, cities like New York can count themselves lucky to be completely out of Irma's path. Well, for the most part.
According to Patch, New York could experience some cool weather and rainfall mid-week, thanks to Irma.
Other surrounding cities like Pittsburgh, Washington, D.C., and Philadelphia can also expect to deal with some stormy, wet conditions.
That – of course – is small, small potatoes in comparison to what others across the country are dealing with.
On Sept. 8, William Long, administrator of the Federal Emergency Management Agency (FEMA), cautioned that everyone "from Alabama to North Carolina" should prepare themselves for a potentially catastrophic storm to hit, according to Reuters. He said,
Hurricane Irma continues to be a threat that is going to devastate the United States in either Florida or some of the southeastern states. [Residents] need to get out and listen and heed the warnings.
A dire warning was released to residents of the Florida Keys – that would pretty much make ANYONE want to run screaming for the hills.
Florida residents have already begun to pour into shelters, stock up on food (read: supermarkets have been completely cleaned out) and head towards the highways. Many waited hours to fill up their tanks before hitting the road in the thousands – making for potentially the largest mass exodus in United States history. According to CBS News, about 5.6 million Florida were ordered to evacuate. That is more than one quarter of the state's entire (!) population.
Gov. Rick Scott made a plea to residents during a sit-down on CBS This Morning, saying,
Think about your life, think about your family's life. But five to 10 feet of storm surge in the southern part of the state -- think about that. That's going to cover homes. We're not a high state. We don't have mountains in the state.
A mandatory evacuation has already been called in coastal areas of Georgia, including Savannah, and a potential evacuation looms over South Carolina. There is a possibility that Irma could downgrade to a tropical storm by the time it reaches the Carolinas, but there is still potential for heavy rainfall, major costal flooding, dangerous rip currents, power outages, and landslides.
Many residents in the southeastern regions of the United States will  likely experience, what meteorologists dub, "the dirty side" of a hurricane. Yes, that's as bad as it sounds.
Basically, the strongest winds in a hurricane are on the right side of the storm, the exact part that Florida and other southeastern states are facing. In other words, as Robert Garcia, head meteorologist at the National Weather Service, told the News Observer,
The difference between the dirty side and the 'clean side' in this case, is probably just the difference between regular and diet soda. Even if we get fortunate with Irma, folks should definitely be preparing for the worst and hoping for the best.
To make matter worse (I know, I know, as if it could get any worse...), Hurricane Jose is currently gearing up to follow in Irma's stormy footsteps. According to AccuWeather's Dan Kottlowski, it might not be quite as catastrophic. He explained,
It's possible Jose might slow down and stall just south of Bermuda early next week as steering flow around the system drops off considerably.
I think the entire country will be beyond happy once we can slam the door shut on Harvey, Irma, and Jose. In the meantime, sending so many well-wishes and good thoughts to anyone in harms way.