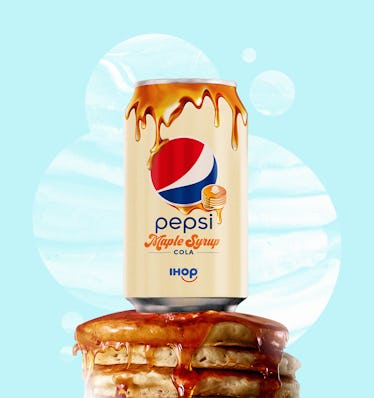 Maple Syrup-Flavored Pepsi Tastes Even More Surprising Than You'd Imagine
It's basically carbonated syrup.
Courtesy of Pepsi
In Elite Daily's series Chef's Kiss, we taste the latest food and drink trends to help you figure out which ones you definitely don't want to sleep on. In this piece, we taste Pepsi's limited-edition Maple Syrup Cola.
Breakfast in a can is a thing now thanks to the unlikely pairing of Pepsi and IHOP — and the result is a maple syrup-flavored cola. Unfortunately, curious Pepsi stans won't be able to find this concoction in stores because only 2,000 lucky fans were able to win a taste of the new drink. Since you can't add it to your cart on your next grocery run, you're probably wondering what it tastes like. One Elite Daily editor got an early taste of the new soda, and this Pepsi Maple Syrup cola review has all the tasting details you need to understand what's going on inside the can.
If you didn't catch the announcement, Pepsi and IHOP launched a social media sweepstakes in March 2022 for fans to win a couple cans of the new Pepsi Maple Syrup cola. While it's a surprising combo, this isn't the first time Pepsi has ventured out of its cola lane. In April 2021, the company launched Peeps-flavored Pepsi, and before that, there was hot chocolate-flavored Pepsi. The latest unique soda combines the "indulgent flavor profile of maple syrup with the crisp, refreshing caramel notes of a Pepsi," according to Pepsi's March 24 press release announcing the collab. Curious to taste these flavors IRL, Elite Daily editor Collette Reitz tried the new soda to see how it really stacks up.
Upon first look, the Pepsi Maple Syrup can has a unique design complete with a stack of pancakes and a matte finish that already makes it feel ~ultra~ limited-edition, as if the flavor doesn't already. Sodas arguably taste better chilled, so of course, Reitz tried Pepsi Maple Syrup straight out of the cooler. After cracking it open and taking a whiff, she smelled mostly cola, with a hint of maple — so she wasn't ready for what came next.
"I was not prepared for the full maple syrup flavor to come through on the very first sip. It really tastes like drinking carbonated maple syrup," Reitz says. In all honesty, she admits the Pepsi Maple Syrup cola is a lot to handle. "I got an aftertaste of cola, but the name doesn't lie here — this is all about the syrup flavor."
Even after a few more sips to suss out the flavors a bit further, Reitz shares that it's not overly sweet, especially considering the syrup inspiration and the 41 grams of sugar in the sip. When it comes down to it, she says she probably wouldn't need to try it again. Reitz reiterates that this is not for cola purists: "It really doesn't taste like Pepsi at all."
It probably shouldn't be too surprising that a cola named after the popular pancake condiment tastes like pouring the contents of an IHOP syrup dispenser straight into your mouth, but you might just be similarly taken aback if you try the pancake-inspired Pepsi yourself. Personally, I'm holding out for a stack of cola-flavored pancakes.